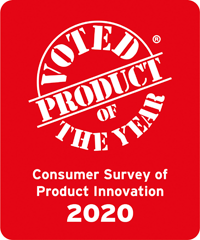 Mars Petcare was awarded for its Whiskas Pure Delight cat product range and Harringtons won for its Just 6 dog food.
Product of the Year is the UK's largest independent survey into product innovation with more than 10,000 consumers voting in a survey conducted by Kantar. The ceremony was held last night at the Sheraton, Park Lane, and hosted by comedian Patrick Kielty at the.
Dan Reeves, Harringtons marketing manager, said: "Just 6 is a premium tier of the Harringtons brand and delivers on our market research that pet owners felt a limited-ingredient diet would give them the necessary product confidence and transparency. Just 6 is all about limited, natural, recognisable ingredients.
"The distinctive black packaging is also another first for the brand and raises its status to a more premium position as well as attracting the shopper as they make their way down the pet food aisle. We're delighted this new range has received such a powerful consumer endorsement and been voted a winner in the 2020 Product of the Year Awards."
As well as taking home a Product of the Year trophy, winners can display the iconic red logo, which is responsible for an increase in sales of between 10 and 15%.
Mike Nolan, CEO, Product of the Year, said: "Innovation is often about those smart, small incremental improvements that have a disproportionately big impact on our lives.
"All of the 2020 Product of the Year winners are boldly treading new ground, pushing the edges to help shape a future that is healthier, more responsible and just that little bit easier – innovations that are a direct response to the needs of today's consumer. Congratulations to all the winners."
Product of the Year has been running in the UK for 16 years with the success of the scheme being launched globally in over 40 countries, including Australia, New Zealand, USA, Canada, India, South Africa, South America and European countries.
Winning manufacturers can take heart that 86% of consumers say the endorsement of the Product of the Year logo makes them more likely to buy the product, and as many as 64% of consumers recognise the logo.
Previous winners include Procter & Gamble, Coca-Cola, Reckitt Benckiser, Unilever, Asda, Tesco, PepsiCo, Nestlé, Kimberley Clark and Mars Wrigley.