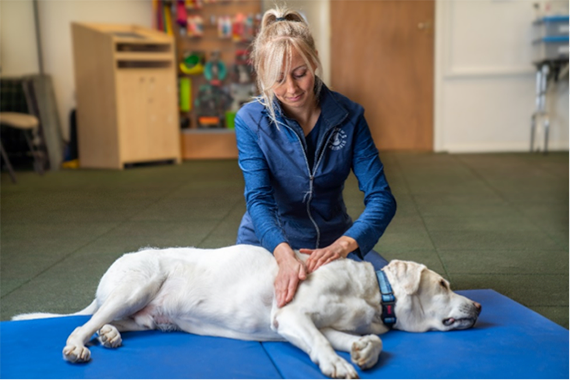 Company of Animals has expanded its canine training and behaviour centre to include pain management for pets.
Dr Roger Mugford and team are now offering a health and rehabilitation service within a rebranded Pet Centre devoted to enabling both the physical and mental wellbeing of companion animals.
Roger began his veterinary referral service for 'problem pets' in 1979 and, from a base on a farm in Surrey, it has grown to become a world class dog training facility that also supports design and innovation for the related Company of Animals pet accessory business.
Just as owners with pets needing behavioural treatment are referred by vets, so the new physiotherapy department also relies on referral from the local veterinary community. Both services thereby qualify for payment by veterinary health insurance.
The Pet Centre now offers hydrotherapy and physiotherapy as part of an expanded commitment to pain management and the overall well-being of pets.
FITNESS
The new service is headed up by Danielle Everett, a post graduate qualified veterinary physiotherapist and canine hydrotherapist. Before taking on her new role, Danielle was key accounts manager for the Company of Animals with a focus upon sales to the veterinary sector.
The newly-equipped hydrotherapy centre includes an underwater treadmill and a 'fitness gym' for dogs, sufficient to treat a range of painful conditions including osteoarthritis, hip dysplasia, cranial cruciate ligament disease, intervertebral disc disease, patellar luxation, and degenerative myelopathy, among other conditions.
Roger said: "Since I launched the notion of applied animal psychiatry and then the Animal Behaviour Centre, the pet-related activities at Ruxbury Farm have evolved to now encompass a varied range of dog training services beyond my original concept of one-to-one behaviour consultations. The new hydrotherapy & physiotherapy facility is a timely extension of my ambition to create a one-stop centre of excellence for total pet care."