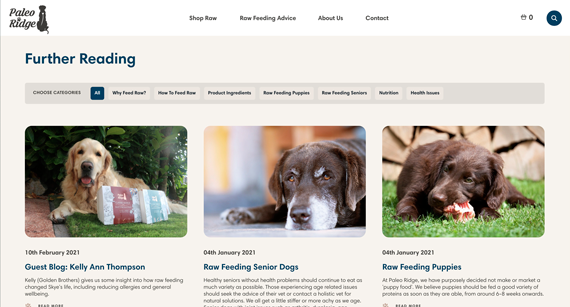 Raw dog food firm Paleo Ridge has launched a new website to help owners get the best advice about feeding their pets.
The mobile-optimised site incorporates a new look and feel, live product filters, an easy-to-use checkout function and a wealth of information and advice.
Tyler Daly, managing director of Paleo Ridge, said: "We want all our customers to access the highest quality products as well as the most up-to-date advice to help them feed and choose raw with ease.
"Our new website delivers the best possible customer experience, providing informative and accessible advice to dog owners as well as features to help customers find products that suit their dog's preferences and needs.
SIGNIFICANT INVESTMENT
"The launch follows a year of significant investment in our brand, including the introduction of a new logo and new product packaging.
"We are committed to continuing to evolve our brand and our business as one of the UK's leading providers of outstanding quality, ethically sourced raw pet food products."
The new site includes comprehensive raw feeding advice to help dog owners safely choose the best and most appropriate raw food diet for their dogs.
A number of developments across the website also help customers find all the information they need when considering a switch to raw.  The advice section includes a 'why feed raw' segment with six key reasons for switching, FAQs, case studies and articles from inhouse experts and guest bloggers, including specialist pet nutrition expert Dr Conor Brady.  A helpful new assistant, Pawfessor Herbie, also appears throughout the site.
Paleo Ridge worked with award-winning creative and design agency Mud to deliver the website, available to view at paleoridge.co.uk