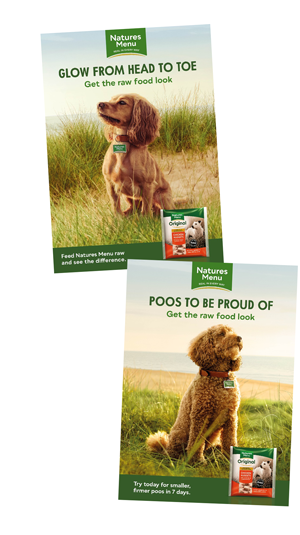 Natures Menu is investing six figures in its biggest promotional campaign yet this autumn, encouraging owners to help their dog 'Get the Raw Food Look'.
The raw and natural pet food business will reach an audience of more than six million dog owners across the UK, with the campaign highlighting the benefits of a raw diet.
The multi-channel campaign will include an eight-week video promotion and a 30-second YouTube advert, as well as social advertising and a bespoke POS suite and digital toolkit for its network of partner stores.
As part of the campaign, Natures Menu is also partnering with Edition Dog Magazine on its 2022 calendar which will be distributed to more than 10,000 households nationwide, collaborating with pet stores to help find the UK's healthiest, happiest raw-fed dogs to feature in the calendar.
James Langan, managing director at Natures Menu, said: "We're incredibly excited to be launching our largest ever advertising campaign – tapping into a variety of different communication channels.
"Our pets have played such an important role in our lives throughout the pandemic, and owners now want to do their very best for their pet by return.
"The Get the Raw Food Look campaign helps to educate owners about the link between diet and health and wellbeing and provide support to those that may be considering making the transition to feeding raw about how to do so safely and seamlessly."
To help dog owners safely transition to feeding raw, Natures Menu has launched a new Raw Starter Bundle to help make a seamless switch in just seven days.