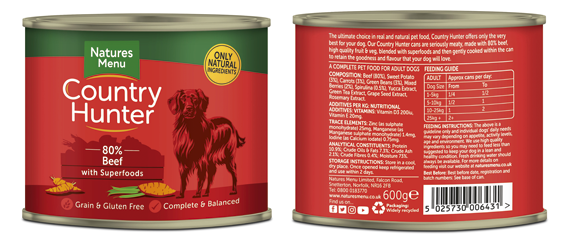 Natures Menu has added a beef variant to its range of Country Hunter Superfood cans and has revamped the packaging of the entire range.
The new recipe is made with 80% beef, blended with fruit, vegetables and superfoods, steam-cooked within the can.
The range of Country Hunter Superfood cans, which includes wild boar, farm reared turkey, rabbit, salmon & chicken, pheasant & goose, wild venison, duck and the newly-added beef variety, will also feature the all-new packaging which has been designed to add stand-out on shelf, attract new consumers and boost sales for stockists and retailers. The grain- and gluten-free range also features an easy-to-read feeding guide on the back of the can.
The Superfood can range comes in 600g cans, with an RRP of £2.89. To celebrate the launch of the new beef variety, Natures Menu is offering retailers an introductory offer on orders.