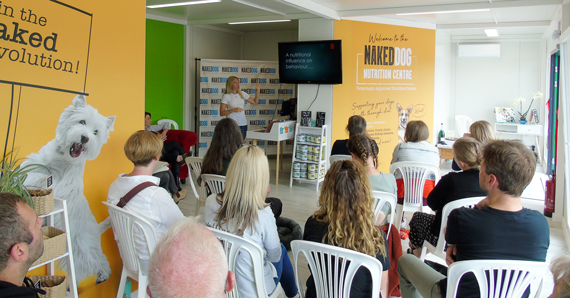 Raw dog food business Naked Dog is celebrating the opening of a new dedicated canine nutrition centre, the world's first fresh dog food nutrition centre offering in-person and online consultations with both a nutrition specialist and a practising holistic vet.
The centre is offering independent canine nutrition consultations as well as running educational seminars and teaching the only Ofqual-regulated diploma in canine nutrition.
Naked Dog's nutrition consultant, Caroline Griffith, said: "Everything is, of course, available all online as well – consultations, seminar recordings and the diploma course – but it has been truly wonderful to meet dogs and their lovely owners for consultations and to literally see the improvements in the dogs following our suggestions."
Last month saw the centre's grand opening, with Prosecco and nibbles, plus talks on canine nutrition and vet Dr Nick Thompson cutting the ribbon to officially open the centre.
He said: "Anything that can improve the lives of dogs and support the raw awareness cause gets my vote! Well done Caroline & the Naked Dog team."
Consultations at the centre are independent. Dogs do not have to be eating Naked Dog food to book a consultation, nor will they be asked to switch if the food they are eating is suitable, the company says.
The centre's owner, vet Dr Jane Keogh, is a holistic vet with many years experience and can prescribe homeopathic support for dogs as part of a consultation.
Naked Dog says it is also happy to support specialist retailers by providing these professional consultations as a referral service for all its stockists.