Leading pet care company Mutneys has scooped the contract to supply the kit for new prime-time dog grooming TV show, Pooch Perfect.
Mutneys Professional Pet Care has supplied most of the equipment for the new BBC dog grooming reality show, which aims to find Britain's best dog groomer.
The third episode of the BBC One show presented by actress Sheridan Smith is on tonight at 8pm. The show features 16 leading pet groomers and will culminate with the crowning of the Top Dog Groomer next month.
Mutneys director and co-owner Jamie Roberts explained that the show's producers approached the company last year.
"We've been involved in the dog grooming industry for the past 25 years and we know Colin Taylor who is one of the judges. He recommended us to the production company as he knew we were experienced and flexible enough to make whatever they needed.
"As a result we were able to tailor the height adjustable electric tables and the baths to their specification and supply all the driers, trimmers, brushes, shampoos and conditioners. The contestants supply their own scissors and control straps.
"It was a bit of a rush to get it done for the start of filming last summer but it's great to see all our efforts on show in the series now it has started," he said.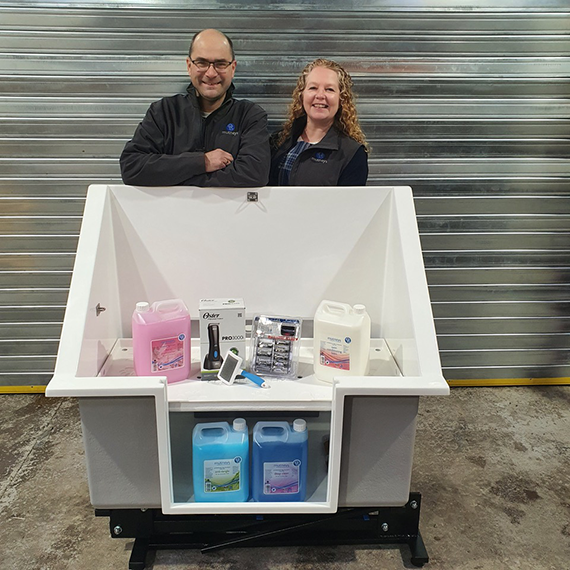 Mutneys directors Jamie and Stephanie Roberts with some of the equipment for the Pooch Perfect television series
Jamie added that the dogs' welfare was top priority for the show with a vet and support team on hand at all times to make sure all the pets' needs were taken care of.
"The production team was very keen to use only products that had been fully tested and were safe to use. All our shampoos and conditioners are specifically formulated for dogs and have been developed over the past 25 years to comply with all animal welfare regulations.
"We are members of both the Pet Industry Federation and the British Isles Grooming Association so I think the production team were happy with our credentials."
He said that Mutneys was delighted to be involved in the programme and all the nine-strong team had been glued to the first two episodes of the series.
"The great thing about the show is that it is highlighting the skills of professional dog groomers focusing on grooming for pet dogs rather than show dogs. It really shows how much is involved in making your pet look and feel good and how much training professional dog groomers need to have.
"We're also delighted that one of our brand ambassadors, Lorraine Mottershead, is also involved in the show as a technical adviser. It's been a real team effort," he said.