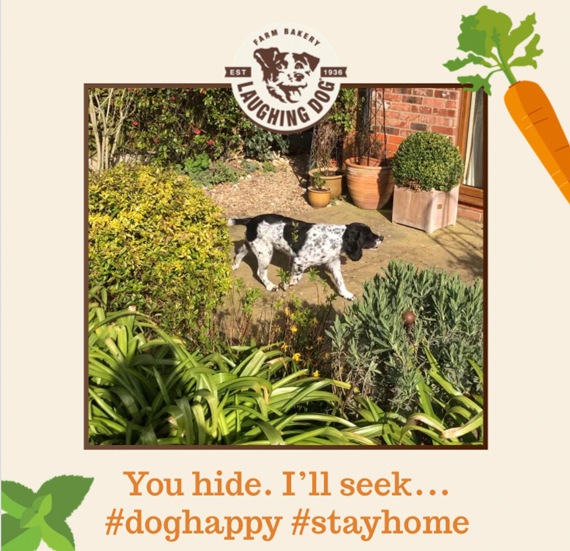 Dog food manufacturer Laughing Dog has launched a campaign to share 'happy' tips, advice and activities for people at home with their dog.
At 10am today (Friday), 'pet parent' and dog duo Rachel Grant and Layla are launching the company's first live video stream on Instagram sharing a 'dog-happy' fitness challenge, and asking customers and their dogs to get involved.
Entitled the 'Laughing Dog Relay', Rachel and Layla demonstrate a fitness activity in the garden and then challenge the audience to get involved, spreading their 'dog happy mission' all over the UK and beyond.
Rachel Grant – granddaughter of Ted Grant, founder of the dog food's umbrella company, Fold Hill Foods – said: "Since the country went into lockdown we have been inundated with requests for ideas and tips to keep dogs and their owners occupied while at home.
TOUGH
"It's a tough time for everyone and everyone's situation is different and, understandably, many people feel isolated. We've been sharing our own ideas (including many coming from our staff working from home) as well as re-posting ideas and activities that are being sent in from our followers and customers – from hide and seek dog treat games, training tricks, to dog-friendly craft ideas and podcasts for dogs.
"The whole family, spanning all ages, have been getting involved and we, of course welcome anyone to join from their home. Not a pet parent? It doesn't matter – we're building a community of positive mental and active stimulation that anyone can enjoy."
Laughing Dog has competitions, tips, tricks and advice on its website at www.laughingdogfood.com and its You Tube Channel as well as all of its social media channels. Live videos will also be published on Facebook and Instagram each week.
Laughing Dog's Farm Bakery range of dry completes, treats and mixer meals is made at its site in Lincolnshire and is available in wheat-free and grain-free varieties.