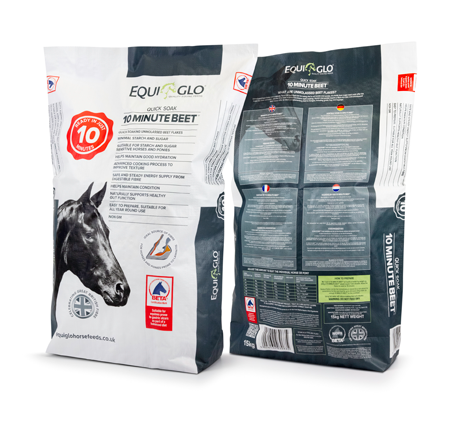 Feed manufacturer Henry Bell & Co continues to push ahead with its export campaign by launching multilingual packaging for its Equiglo 10 Minute Beet into the European market.
"We enjoy a global reputation for technical expertise in micronising sugar-beet, cereals and pulses," said Simon Parker, of Henry Bell. "We are also facing significant demand from overseas for our quick-soak beet, which has already been enthusiastically received by horse owners and riders in the UK.
"We use only the very best British-grown ingredients to create a fantastic fibre feed at a great price point for our customers, who really appreciate that."
The new EquiGlo packaging follows hot on the heels of a major warehousing expansion at Henry Bell & Co's Grantham site, in Lincolnshire, where a new, state-of-the-art facility has introduced increased space for more than 1,000 additional pallets.
"It's very much full steam ahead," added Simon, "as we work to fulfil our export orders and field extremely encouraging levels of international interest."
In addition to its EquiGlo horse feeds, the company is a major manufacturer of a wide range of pet and animal feeds, including the Mr Johnson's label for small animals and Dog Gone Fishin' canine treats. Henry Bell has operated in the feed sector since 1825.