Only 12 years after launching in the UK, Harringtons has become the No.1 dry dog food brand by value in supermarkets.
Since taking the top spot from Bakers, Harringtons says it has now continued to solidify its position as the sector leader with a 25% market share.*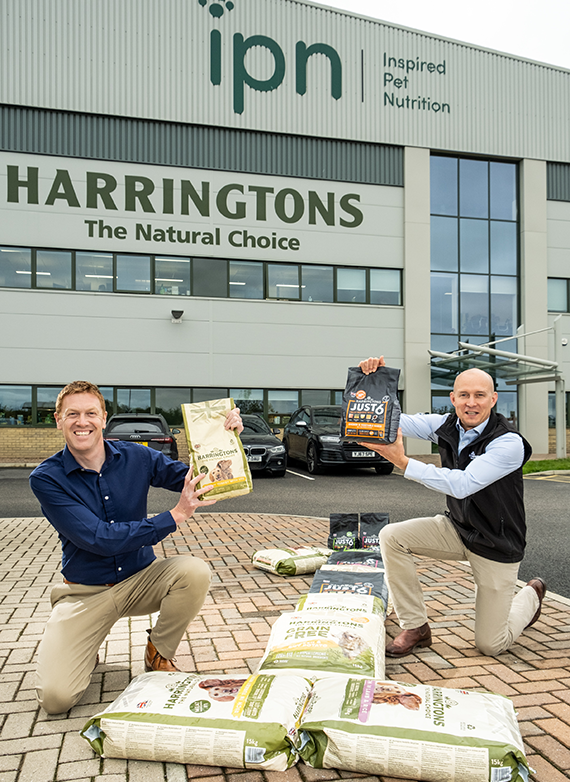 Left to right: Chris Wragg (marketing director) and James Lawson (managing director) celebrate Harringtons' success
IPN marketing director Chris Wragg said: "To reach the No.1 spot having only been launched in 2008 is a tremendous achievement. Harringtons' positioning as an affordable premium food, bringing all the previously expensive and inaccessible benefits of natural and wholesome nutrition to the mainstream, has clearly resonated with pet owners."
NATURAL
Harringtons, with its 'Natural for All' mission, believes there is huge potential for growth outside the dry dog food sector, particularly in the fast-growing wet tray market where the brand already has a significant presence and No.2 market share position.
Harringtons' growth has also been fuelled by sustained marketing activity, which has tripled awareness in three years and fuelled category growth. As an owner/manufacturer, IPN is able to 'aggressively' support brands and Harringtons still remains the fastest-growing major dry dog food brand, contributing more than £4m of category growth.**
James Lawson, managing director, said: "Now with our No.1 position in dry food, our strong expansion into wet food and our recent re-launch of our dry cat food business, I feel that we are well on the way to achieving Harringtons' clear potential as a true pet master brand spanning multiple categories and species."
* Source:  IRI Supermarkets 52wk to 11.07.20 (Dry Dog Sector)
**Source: IRI all outlets 52wk to 11.07.20 (Dry Dog Sector)