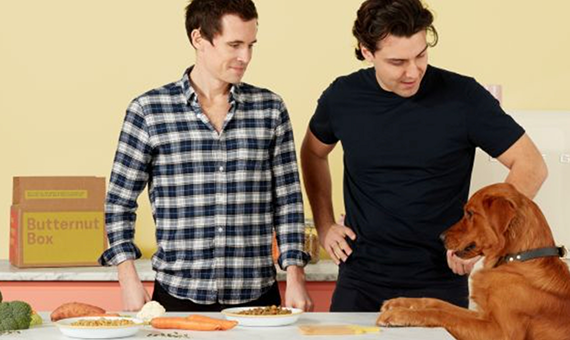 A dog food business, which uses computer algorithms to work out the individual feeding needs of pets, has raised £40m in investment to drive further growth in the company.
London-based Butternut Box secured the cash injection during a funding round by private equity firm L Catterton Europe.
The company has now attracted more than £80m investment since it was launched in 2016 by friends Kevin Glynn and David Nolan.
Kevin, a former Goldman Sachs trader, came up with the idea for Butternut Box when David's dog Rudie recovered from illness after being fed home-cooked meals.
The pair decided there was a gap in the market for a healthy dog food business, which has now produced more than 20m fresh meals for dogs across Britain.
"We've been on a great journey together and we are energised by the fact that our existing shareholders are doubling down so that we can accelerate our efforts in customer experience, manufacturing, new products and new markets," said Kevin.
Butternut's success is partly a result of the technology platform it developed, which uses computer algorithms to work out the individual needs of each dog with dishes cooked made from fresh ingredients and portioned according to a pet's breed, weight, sex and exercise routine.
Jean-Phillipe Barade, a partner at L Catteron Europe, said: "Butternut Box continues to leverage its innovative digital platform to raise the bar in the growing pet food market, and we look forward to collaborating with the entire Butternut team as they work to build on their considerable momentum," he added.