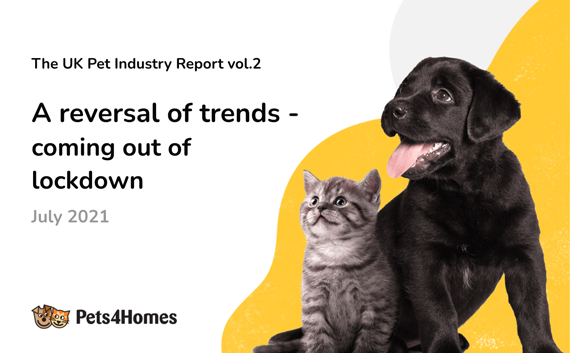 A new report suggests that demand for pets peaked in January and has now stabilised – at a higher level than before the pandemic.
Pets4Homes' UK Pet Industry Report Vol.2, 'A reversal of trends – coming out of lockdown', says that during the past year-and-a-half, more people than ever before have turned top pets for companionship, creating an increased demand and an unprecedented rise in prices.
But Pets4Homes adds: "As we are now slowly but surely coming out of lockdown we are entering a post-pandemic reality that looks quite different from the pandemic and pre-pandemic period.
This transition to 'almost' normal is apparent in Pets4Homes data, where demand for pets peaked in January at 7.4 million Britons looking for a pet, of which 78% where looking for dogs and puppies.
As we come out of lockdown, this figure has dropped by 40%, but has stabilised at a higher level than pre-pandemic.
Pets4Homes says that, at the same time we have seen breeders taking the opportunity to breed more litters to meet demand, which has led to an almost doubling in available pets for sale compared with last year.
PUPPIES
And the report has good news: "The data does not suggest that people are abandoning their 'pandemic puppies' as many had feared. Although we will need to wait to see the full impact of a return to normal life and how it affects pandemic pets, Pets4Homes continues to monitor this space and prioritise the welfare of these pets, long after lockdown ends."
Prices have declined from the peak, according to the report, but are still more than double compared with pre-pandemic.
"The sharp reversal of supply vs demand will inevitably lead to lower price levels than seen during the height of the pandemic and we believe that the drop in price of 16% witnessed for dogs so far is only the beginning of this trend.
"Lower price levels and less buyers competing for each puppy/kitten will hopefully mean that unscrupulous sellers have less opportunity to take advantage of desperate buyers.
"Additionally, having the opportunity to view a puppy or kitten in the home environment interacting with its mother, something which was difficult in lockdown, will improve the quality of the rehoming process."
BREEDERS
Some of the report's standout findings include:
> Hobby breeders are making a return, as hobby breeders and individuals' share of unique sellers has increased from about 50% pre-pandemic to about 75% in June 2021. This is a sign that the supply of new puppies may catch up with demand
> While the popularity of dogs has levelled off after a sharp spike in 2020, demand for cats is on the rise, as almost as many cats have been rehomed in the first half of 2021 as in the whole of 2020 (156,193 so far in 2021 vs 179,298 so far in 2020)
> The average price of dogs is dropping after climbing to record highs last year, as the average price for a dog declines to £1,873, after reaching a peak of £2,237 in March 2021
> There are indications of progress in terms of new owners' awareness of animal welfare, as 86% of prospective owners on Pets4Homes were aware of the Animal Welfare Act. As of March 2021, 59.1% of buyers had spent three months or more researching what pet they wanted, compared with 41.5% in November 2020.