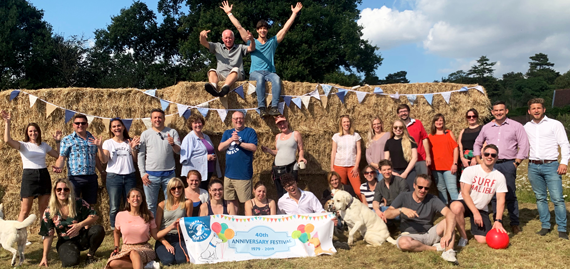 This year Company of Animals is celebrating its 40th anniversary. From humble beginnings in 1979 when founder Dr Roger Mugford established an animal behaviour consultancy, the business has grown into a market-leading, global brand specialising in innovative training products and animal psychology.
One of the business' first innovations was Roger's invention of Halti, the world's first dog headcollar. Since its launch in 1984, the Halti headcollar has become an iconic training product, which now in its fifth iteration, helps to stop dogs pulling on the lead.
In recent years the Halti range has expanded to include a No Pull Harness as well as a variety of training and walking leads.
Company of Animals has also developed the Baskerville muzzle, which first came to market in 1987 and relaunched in 2019 with a new and improved design, as well as the Pet Corrector and Multi-Clicker training products.
Diversifying its product portfolio in 2016 the company branched out to acquire pet grooming brand Pet Head.
'INCREDIBLE FOUR DECADES'
The success of the business over the past four decades has led to industry recognition including a lifetime achievement award for Roger from World Pet Association and PetQuip in 2015, the Queen's Award for Enterprise and International Trade in 2018 and the Brand of the Year at the World Branding Awards in 2018 and 2019.
With a new CEO at the helm following Roger's decision to step back from the day-to-day running of the business and a new commercial director and global head of marketing recently appointed, there is a clear ambition for future growth.
Roger said: "It has been an incredible four decades for Company of Animals and the pet industry as a whole. We have seen so many changes through the years and we have remained at the forefront of innovation.
"We continue to create new products and remain the leader in the pet training accessories category.
"It's an exciting time for us as a company as we expand our presence in the pet arena with ambitious plans to grow worldwide market share. With a strong and experienced team in place to lead the business into the future I foresee the next 40 years being as thrilling as the first."