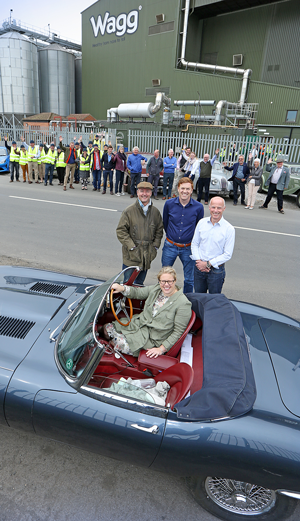 Standing left to right: Jonathan Turner DL, Chris Wragg (IPN marketing director), David Proctor (IPN Operations Director).  In the 1962 Jaguar E-Type is Rosie Battye (head of motoring at the Bowcliffe Hall Drivers Club.)
Leading members of the region's business community were among a 30-strong group who visited the production facilities at Inspired Pet Nutrition (IPN) – the UK's largest independent producer of dry pet food – at Dalton Airfield, near Thirsk, in North Yorkshire.
The group are members of the Bowcliffe Hall Drivers Club, a private car club for motoring enthusiasts which is based at Bowcliffe Hall near Wetherby.  Nearly 20 vintage and modern sports cars – including a 1930s Bentley, a 1951 Jaguar XK150 and a Morris 1800 Rally car which competed in the first major car marathon from London to Sydney in 1968 – called in at IPN as part of a one-day rally round Yorkshire.
Jonathan Turner DL, CEO of the Bayford Group which his family co-founded 100 years ago and who also started the drivers' club, said: "It was fascinating to have a tour of the UK's largest pet food plant for dry dog and cat foods.  We love to take inspiration from fellow Yorkshire businesses and with turnover approaching £100 million and market-leading brands, IPN is a great Yorkshire success story."
Chris Wragg, marketing director at IPN who coordinated the visit, said: "We were delighted to welcome the Bowcliffe Hall Drivers Club and share the exciting business performance and future growth plans at IPN."