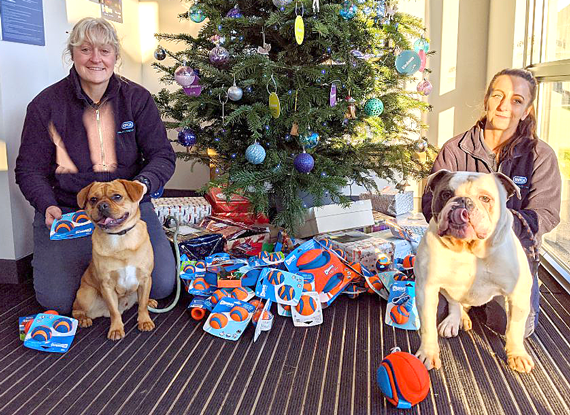 Christmas came early for dogs at four rescue centres thanks to a large donation from dog toy brand Chuckit!.
The four centres – Lincolnshire Rescue Kennels, Ark Animal Rescue and Retirement Home, RSPCA Radcliffe and Halfway Home Dog Rescue – all rely on donations, be that monetary or otherwise, to help their rehoming work and efforts to care for dogs in need. Between the four centres, they received £1,000-worth of Chuckit! toys.
For all the centres, the dogs they take in have often had tough lives and need great support until they find their forever homes – and Christmas can be a particularly hard time with the cold weather.
POPULAR TOYS
Chuckit!, whose brand ethos is 'promoting happy and healthy lifestyles for dogs', donated a selection of some of the brand's most popular toys to each of the centres, including the best-selling Ultra Balls and launchers, which will enable the carers to encourage even more interactive and fun ways to play. The toys will also help potential new pet owners visiting the centre to build bonds with the pooches.
Hannah Green, kennel assistant at Lincolnshire Rescue Kennels, said: "We'd all like to say a massive thank you to Chuckit! for their toy donation. As a small rescue centre, we rely heavily on donations to provide the best possible care to the dogs waiting for their forever homes. The toys donated will make a huge difference to the dogs as playtime is what keeps them happy while we find them a place to call their own."
Presenting the toys to the centres, Ted Swales, marketing executive for Chuckit!, said: "We are thrilled to be able to bring some Christmas cheer to the deserving dogs at all the centres and hope that the Chuckit! toys will help provide the dogs with hours of fun over the festive season and in 2020."