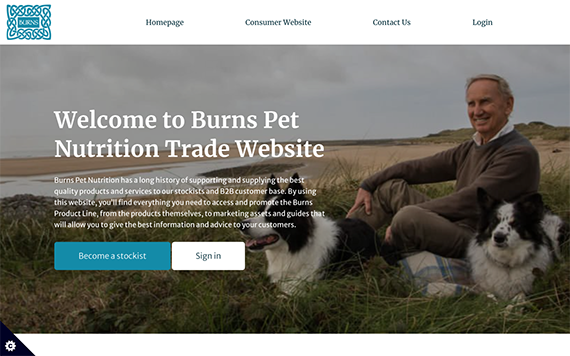 Carmarthenshire-based pet food company Burns Pet Nutrition has launched a new trade website exclusively for stockists and suppliers of its award-winning pet food range.
Burns has a long history of supporting and supplying products and services to its stockists and B2B customer base. The website – www.trade.burnspet.co.uk
– features everything needed to access and promote the Burns product line, from the products themselves to marketing assets and guides written by the Burns nutrition team, enabling stockists to access information and advice to share with their customers.
Burns uses natural, holistic and simple ingredients in every recipe, without any 'nasty' chemicals. Founded by veterinary surgeon John Burns in 1993, the brand believes that some of the most common problems in pets can be prevented and, in some cases, reversed, by feeding a simple, wholesome diet.
Burns has sold more than two billion bowls to date and received numerous awards and accolades, including an impressive 92% in the latest Which? consumer poll for best pet foods and a win for Best Dry Complete Food in the latest Your Dog Product awards.
HIGH STREET
Alongside its own pet stores in West Wales, Burns has a long and continued relationship with independent pet retailers across the UK who help promote and champion the benefits of the brand. Burns says it is an advocate for the importance of the high street and supports as many pet shops as possible to keep customers coming back to store.
Founder John Burns said: "Launching the Burns trade website is an important milestone for us. We are proud of the relationship we have with independent retailers across the UK and we hope the new website shows the commitment we have to them.
"The last year has been incredibly tough for retail and we are hoping the assets and advice on the new site go some way to helping independent retailers bounce back.
"We believe it is important to invest in our communities and high street retailers; they can be the lifeblood of a local community and provide great advice and guidance to local pet owners. We hope that the new trade website will become a great source of support for stockists across the UK."