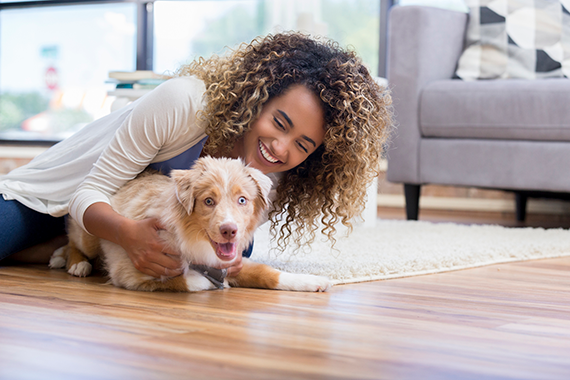 After a boom in puppy ownership over the last six-months, Burns Pet Nutrition has launched an exclusive membership scheme for new puppy owners.
The family firm, which specialises in 'natural pet food with no nasties', has officially launched 'Puppy Club' to help new puppy owners learn the ropes with all the advice, support and food supplies they need to ensure their pups get the best start in life.
For a standalone, one-off cost of less than £10, members will receive dog food, professional nutrition advice, training tips and a selection of other goodies for an entire year.
The launch follows news of a boom in the sale of 'pandemic pups' over the last six months, with the Kennel Club reporting a 187% increase in people searching for puppies via its Find a Puppy tool between March and the end of June compared with the same period in 2019.
Subscribers, who will pay £9.99 to join, will receive 2kg of puppy food shortly after signing up to the club, followed by 4kg of Burns adult food after nine months (or 12 months for large and giant breeds) to help them transition into adult life.
Members will benefit from regular email 'pupdates' containing advice and will receive a variety of useful items to help them during the puppy stage including a feeding mat, training treats and puppy handbook, outlining everything they need to know about training and caring for a puppy. Owners will also have access to bespoke advice on feeding from nutritionists at Burns.
Club members will be able to choose from four varieties of Burns' dog food, including a grain-free option, enabling them to cater to any specific dietary needs or intolerances.
At the end of the programme, to mark their puppy's transition into 'doghood', they will also receive a birthday card to celebrate reaching the one-year milestone.
John Burns, veterinary surgeon and founder of Burns Pet Nutrition, said: "Becoming a dog owner comes with a lot of new responsibilities and for those bringing a puppy home for the first time, it can be especially daunting. We wanted to use our team's expertise to help support new owners to feel confident and knowledgeable for their puppy parenting journey, making the experience as enjoyable as possible.
"Through Puppy Club we will help owners find their way, ensuring they take the best care of their new four-legged friend and feed them natural, wholesome dog food to give them the healthiest start. As well as the gifts and advice that come with the service, I'd advise all members to get in touch with our nutrition team, who are on hand to answer any questions they might have on their puppy's dietary needs."
The total value of the £9.99 package is £53, Burns says.