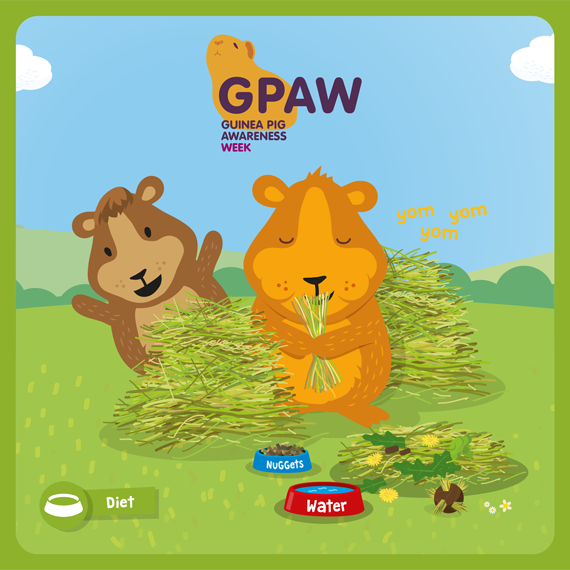 Building on the success of 15 years of Rabbit Awareness Week, the organisers are now throwing the spotlight on the nation's guinea pigs with a week-long online festival in March.
The inaugural Guinea Pig Awareness Week has been created by Burgess Pet Care, in association with the RSPCA, Wood Green The Animals Charity, Blue Cross and the PDSA.
The campaign aims to reach, educate and inform guinea pig owners on a bigger scale than ever before and will encourage them to join in the conversation online.
Burgess recently ran an online survey with owners and vets to help inform the campaign's packed programme.
Dr Suzanne Moyes, operations and technical director at Burgess Pet Care, said:
"Guinea pigs are always a popular choice of pet, particularly for families, but our survey results show a clear lack of understanding around their particular welfare needs.
"GPAW is a fantastic opportunity for "¯vets to get involved, raise the profile of their practices, showcase their guinea pig expertise and to actively engage with their clients, communities and fellow practitioners online."
MISTAKE
In the survey vets reported that the most common health issues seen in guinea pigs were dental disease, abscesses and lumps, gut stasis and bladder and urinary issues.
Most notably, 94% of vets surveyed felt that the most common mistake owners of small animals make was feeding them the wrong diet.
Holly Ackroyd, senior brand manager at Burgess Pet Care, said: "¯"Our aim is to ensure that the first ever GPAW campaign delivers online content to both entertain and educate UK owners, and 'would-be' owners of guinea pigs. The owners we currently engage with are so passionate about their piggies, so we're delighted to throw the spotlight on these adorable pets with a national campaign to support their welfare. "¯ "¯
"Vets have always played an active, and absolutely vital, part of RAW campaigns so we're confident that we'll see the same creative, passionate and enthusiastic response as we announce the first ever GPAW.
"In the coming weeks vet and retailer packs will be available to download and we'll be making more announcements about the campaign programme nearer the time."