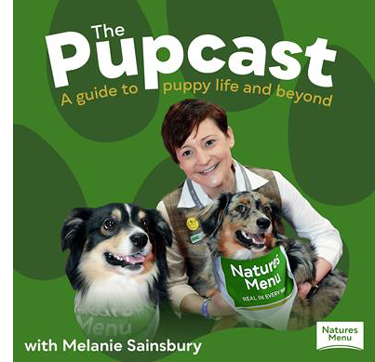 Raw pet food firm Natures Menu has launched a new podcast to support dog owners after a recent survey found that nearly a third of them would like more guidance in managing their dog's behaviour.
The Pupcast podcast is the first one for the brand. It aims to help puppy owners navigate the memorable and sometimes daunting journey as their dogs go through adolescence, which surprisingly nearly two fifths (38%) of owners didn't know their pet experienced.
The survey of more than 1,000 dog owners was commissioned by Natures Menu, and has revealed that almost a third (29%) of dog owners regret buying their dog, and while nearly a fifth (18%) of those plan to persevere, sadly over a tenth (11%) want to give their pet up for adoption because they are unable to care for them.
KEY CONCERNS
The Pupcast, hosted by Melanie Sainsbury, veterinary education manager at Natures Menu, covers the key concerns for new dog owners – from weaning to socialising with other dogs and humans, as well as top training tips for misbehaving dogs – and is the perfect accompaniment to the morning dog walk.
Featuring expert guests including nutritionist and behaviour trainer Anna Webb to Gwen Bailey, the founder of Puppy School – the network of training classes for young dogs – The Pupcast is there to offer plenty of guidance for new dog owners.
In the first episode Alex Benjamin joins Mel to talk about behavioural changes and how to support a dog throughout adolescence, hoping to make the whole experience much easier for both the puppy and the owner. Alex is an associate lecturer in the Department of Psychology at the University of York and consultant to 'My Dog's Favourite Podcast'. He owns a cocker spaniel called Cooper.
UNPREDICTABLE TIMES
James Langan, managing director of Natures Menu, said:
"We are pleased to launch The Pupcast – our debut podcast which is there to help new puppy and teenage dog owners manage the often unpredictable times ahead.
"Natures Menu has been leading the way when it comes to providing support and guidance for dog owners for almost 40 years and we are delighted to welcome a range of expert guests across the pet industry to share their words of wisdom on The Pupcast."
Anna Webb, nutrition and behaviour expert, and The Pupcast guest, says: "As puppies become teenagers, they can become quite unruly by temporarily forgetting all they have been taught. That is why it is important to keep up with your dog's training and a complete natural and balanced diet as they go through adolescence.
"The Pupcast is a must-listen for anyone with a puppy or teenage dog who feels like needs help navigating the time ahead."
Natures Menu specialises in natural dog food made with fully traceable ingredients using British suppliers and ethical product sources wherever possible.
The podcast is available to listen and download from Spotify, Acast, Google Podcasts and iTunes [to come].