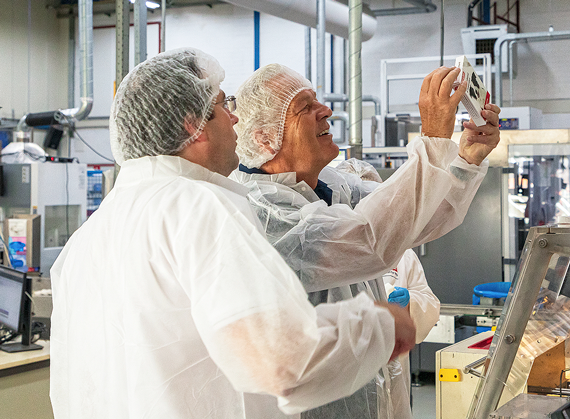 Daan Aa (left) and Henk Aa with Beaphar's 250 millionth flea collar
Global pet healthcare and pharmaceutical manufacturer Beaphar celebrated a milestone last month – the production of its 250 millionth flea collar!
"Flea collars have been a part of Beaphar for nearly 40 years," said CEO Daan Aa, CEO. "They are one of Beaphar's most significant product developments. Not only are they our bestselling product range worldwide, but they paved the way for the development of our hugely popular anti-parasite product range, as well as the development of other products such as our calming collars.
"To have reached such a huge milestone is phenomenal. It is a testament to the hard work of my Beaphar colleagues, past and present, and the popularity of the products among pet owners across the globe."
Beaphar produced its first flea collar in 1983. Henk Aa (Daan's father and also CEO) first saw the product while travelling abroad and immediately saw the potential, knowing this was something Beaphar should manufacture in-house. Sketching out designs on the plane ride home, Henk and the Technical Team developed Beaphar's first flea collar production line.
RELIABLE
In those early days, buckles were added by hand, but technological advancements mean the process is now fully automated. Today, Beaphar produce 12 million flea collars annually, making them the largest manufacturer of flea collars in the world.
Dr Sue Huggett, business manager, Beaphar UKm said: "It's no surprise that flea collars have become and remain one of the most popular flea control methods for cats and dogs.
"Fleas can cause our pets a great deal of discomfort and distress. As a much-loved member of the family, owners want to know they have a reliable product that can protect their pets. Being long-lasting and easy-to-use, flea collars offer a simple way to achieve this."
Another development from the original flea collar range is the Beaphar Canishield collar for dogs. Providing 16 weeks' protection against fleas, it also offers six months protection against ticks and five-and-a-half months against sand flies.
Daan said: "Watching the 250 millionth flea collar roll off the conveyer belt filled me with pride, but also showed just how far we've come thanks to our innovation and development. We have always strived to provide pets and their families with the very best products and will continue to do so. I look forward to seeing the 500 millionth Beaphar flea collar being made in the future!"