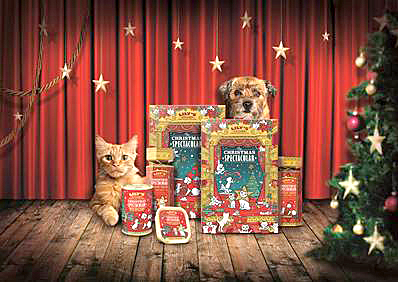 Lily's Kitchen has unveiled its Christmas range for 2019.
The limited edition theatre-inspired Christmas Spectacular collection is a seasonal range of meals and treats for dogs and cats, featuring handcrafted designs.
Lily's Kitchen has also created festive in-store point of sale and display units – complete with moving scenery and twinkling stars – to complement the seasonal range and highlight the 'love, excitement and fun' of Christmas to shoppers. Available in a range of options, all POS is designed to engage shoppers across any store size or format.
Henrietta Morrison, founder, executive chair and global brand director, said: "Christmas is such a special family time and that includes our furry friends, too.  At Lily's Kitchen we include our pets in everything we do – because they are our family and we know our customers feel the same.
LIMITED EDITION
"Our limited edition festive range is always much anticipated by our customers and, once again, we know it will bring much excitement in store and boost seasonal sales opportunities for our retail partners. It will also ensure that it's the most wonderful time of the year for our dog and cat family members, too."
The Lily's Christmas Spectacular range includes:
– Advent Calendar for Cats, RRP £10
– Advent Calendar for Dogs, RRP £10
– Festive Treats Cracker for Dogs, 100g, RRP £3.95
– Festive Treats Cracker for Cats, 50g, RRP £3.49
– Three Bird Feast for Dogs 400g, RRP £2.75
– Turkey & Ham Pâté Feast' for Cats (Tray), 85g, RRP £1.10
New for this year is a hardcover book – 'Tasty Treats for Happy Dogs' by Henrietta Morrison, which retails at £12.99 and features 50 recipes – from everyday snacks to Christmas treats. The book is available from December 5 but can be pre-ordered from Amazon.