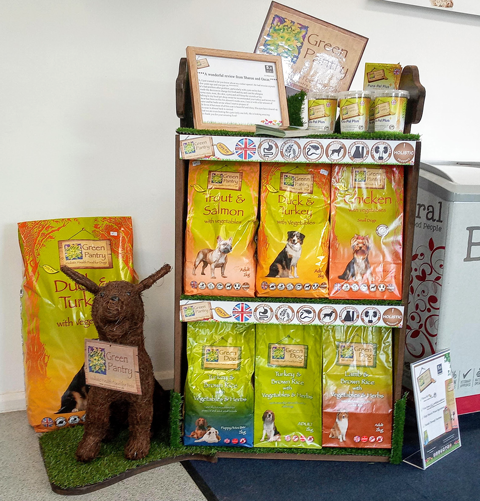 Nature Vito is celebrating the 10th anniversary of its first products coming to market.
The family-run, independent business was founded in 2008 by Keith Allison, a specialist adviser and author within the animal health sector, and the Booth family, with, again, many years' experience within the pet retail, wholesale and welfare industry.
"We took a long look at the industry and saw a place in the market for a very high quality complete dry dog food," said sales and marketing manager Robert Ward. "This food was only to contain whole and 100% natural ingredients, no artificial or man-made additives of any kind and was to be based around holistic feeding.
"Keith's many years of research into natural sources of vitamins and minerals found in grasses and herbage paved the way for Pura-Pel, our trademarked natural premix found in every bag of Green Pantry and Green Dog food. Pura-Pel helps with all types of intestinal and external hygiene and gives our products a unique edge in maintaining health through nutrition.
"Starting with only one product line, Turkey and Brown Rice, we were up against much larger product ranges and companies – but through hard work, family service, dogged determination and with phenomenal feedback and results, the range and stockists grew.
GRAIN-FREE DIETS
"Knowing we had to stay ahead of the latest industry trends meant the development of one of the UK's first grain-free complete diets, Trout, Salmon and Vegetables."
Sustained growth and market share led to a move to larger premises in 2014 and the introduction of a full-time sales and marketing team and larger distribution centre and warehouse manager.
Then, in 2015, the company released its 70% meat, grain-free cat food diets branded Green Pantry and expanded its premises yet again.
Robert continued: "More recently the release of our 5 out of 5 80/20 Chicken complete dog food diets have proved an overwhelming success, with all our grain-free products now being branded Green Pantry and the original diets remaining as Green Dog.
"We have many ideas in the pipeline and as always we want to be at the forefront and set the benchmark with our industry. We continue to grow our European distribution and we are currently in talks with the Far East and Russia.
"Most importantly we remain a family-run, independent business holding the same high values and ethos as when we first formed. Natural diets, sustainable ingredients, recyclable packaging, no manmade synthetics, UK manufactured and locally sourced ingredients."
The company currently distributes in Sweden, Latvia, Greece, Spain, Ireland, Croatia, Estonia, Poland, Czech Republic, Slovakia and, of course, the UK.