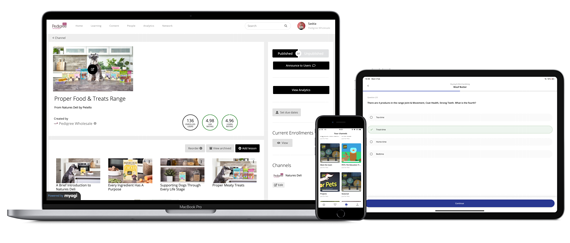 Award-winning pet and aquatic goods supplier Pedigree Wholesale says it wants to transform the way the trade shares product knowledge with retailers, and is partnering with digital Go-To-Market Collaboration platform Myagi to roll out its network across the pet industry.
By adding an online platform to its suite of tools for supporting customers, Pedigree Wholesale believes it is optimising its communications with retail channels and paving the way for innovation in the specialist pet industry.
As a supplier of products across a wide range of brands, Pedigree says it understands the impact of its retailers' in-store experiences and works hard to support specialist retailers to build valuable relationships with customers.
The it says making specialised content for sales staff available on demand through Myagi's platform means it will be 'even more adept at delivering the right information to help retailers create engaging and informative customer experience'.
Gerard O'Mahony, commercial director at Pedigree Wholesale, said: "With increasing demands and changing ways of working, getting the right information to the shopper is becoming increasingly more challenging. At Pedigree we want to support our customers in every way, this includes making sure they have access to the information they need when they need it. Partnering with Myagi allows us to get the right content, to the right people at the right time."
ESSENTIAL
Pedigree Wholesale was adopting digital tools to support customer collaboration before covid struck, but with ongoing restrictions and pet stores in the UK classed as essential businesses, launching a digital platform will help it keep resources available to its retailers despite changing external conditions.
Gerard added: "We're thrilled to bring this platform to the specialist pet industry. After seeing success in other complex industries, this tool has the potential to transform how we communicate across the full industry. It could not only save time for stores, but also ensure consistent training across all staff members, which can be refreshed at any time. We want everyone to benefit from this fantastic tool, that's why we are opening up access to the full specialist pet market."
Myagi is a digital 'go-to-market' collaboration platform that helps brands transfer knowledge across retail networks around the world, helping them to drive sales and customer experience. Suppliers can use it to upload custom content and distribute it – and measure the success of activities through analytics to gain transparency over teams' training performance.
ENTHUSIASTIC
It works with speciality retailers across many industries, being particularly well known in sports and cycle, but Pedigree Wholesale is paving the way for adoption in the specialist pet product market.
Myagi's head head of sales & customer success,Richard Smith, is enthusiastic about the  partnership: "Having successfully launched Myagi into multiple speciality retail networks, Myagi is very excited to partner with Pedigree and the wider pet industry to help aid collaboration, speed up knowledge transfer and ultimately ensure customers continue to get the exceptional experience they enjoy in many pet stores, large and small."
Pedigree Wholesale has already rolled out Myagi to its own retail brand Just for Pets, where staff feedback on content and the platform has been exceptional. It is planning to execute a wider launch of the platform to all its retail partners by the end of this quarter.
Other brands such as Bern Pet food have also joined Myagi, and it is anticipated that several major pet brands will sign up before the platform launches to all UK retailers.