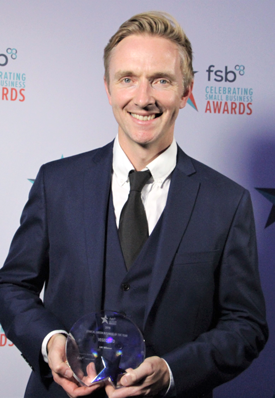 The ethical credentials of a vegan pet food company were recognised as it was named as Federation of Small Businesses Ethical-Green Business of the Year 2019.
Vegeco – whose portfolio includes the Benevo, V-dog and Nuvale brands – scooped the award in the FSB Celebrating Small Business Awards at Battersea Evolution, in London.
The Hampshire business, which specialises in the import, export, manufacture and distribution of vegetarian and vegan pet products, is owned by brothers Damian Eadie and Darrell de Vries.
Recognising that the only meat in many vegetarian households was in their pets' food, they decided to launch their own company to enable pet owners to choose alternatives from non-animal sources.
Since setting up 13 years ago in a back room, the business now has a £2m turnover, employs 10 staff and sells to 30 countries worldwide. And Vegeco's environmental credentials don't end with their products; the company's warehouse and electric forklift is powered by wind and solar energy, they have a 'zero to landfill' waste policy and pallets and other materials are recycled.
CONGRATULATIONS
FSB's development manager for Hampshire, Nicola Bailey, said: "Huge congratulations to Damian and Darrell and their team at Vegeco, who have built a hugely successful company, which is growing every year. Green and ethical practices are behind the business's whole ethos, from the products they sell, to the way they work in their office and warehouse.
"The awards celebrate the very best small businesses and the self-employed from right across the UK. There has never been a more important time for the people of the UK to demonstrate how much they value the vast contribution that small businesses make to our economy and our communities."
Vegeco owner Darrell said: "In such an exciting and growing sector, it's great to be recognised for building a business that aligns with our core beliefs. We are pioneers and disruptors in our market and proud of it."
More than 2,000 small businesses from across the UK entered the FSB Celebrating Small Business Awards 2019.