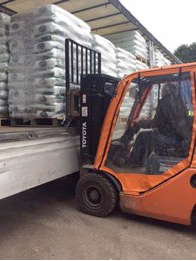 Freeburn Farm Feeds has become the main distributor for CSJ dog feeds in Ireland.
The store and CSJ had to negotiate a raft of new paperwork to ensure the first stock shipment arrived safely in March.
However, the shipment eventually got there and the store announced on Facebook : "A welcome sight in Freeburn Farm Feeds today, our long-awaited load of CSJ dog food.
"We are now the main distributor for CSJ Dog Food in the island of Ireland. We are well stocked for your needs as of today.
"After a number of weeks and a lot of telephone calls this is the first of many, hopefully, shipments coming across the Irish Sea."
CSJ's Ceri Rundle said: "We are delighted to welcome Keith Freeburn and his team at Freeburn Farm Feeds as our stockist of CSJ dog feeds, treats and supplements in Ireland.
"It was a lot of work and initial frustration by all of us to negotiate the labyrinth of new regulations, so great to see the pictures of the food's safe arrival."