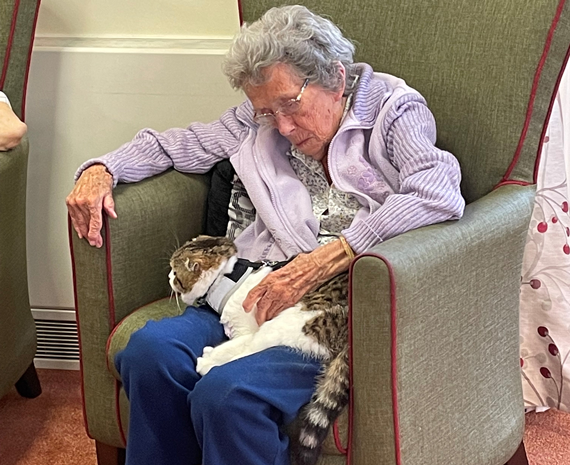 Residents at a Penarth care home thought they were being interviewed for a television show about their memories of pets but, in reality, it was a warm-up for a special surprise -being introduced to their new cat Scotty.
ITV's The Pet Show chose MHA Morel Court for a piece on how pets are important for people of all ages. For a while, the home had been looking to introduce a cat to the home and so the two joined forces.
Scotty was introduced to residents on camera and was soon at home, being given lots of fuss and cuddles by residents and staff. Her introduction will be aired on Sunday (November 28).
LOVELY MEMORIES
Home manager Suzanne Taplin said: "We have lots of residents who have lovely memories of their pets. Many of MHA's care homes have pets so we thought the time was right to introduce one at Morel Court.
"Then came the opportunity to work with ITV on a piece for The Pet Show on how beneficial pets are for people living in care homes and to introduce a rescue cat.
"Scotty came to us from Anna's cat rescue centre and is a Scottish fold. The Scottish Folds are loving and cuddly. They are also easy going, quiet cats, but they can be mischievous. They are "people" cats who like to be with their family members.
"She is adorable and within just a few minutes was making herself at home, snuggling onto residents' laps and having lots of fuss. We all adore her now and she has become one of the family giving unconditional love to residents and staff. Scotty joins in with all the fun and has her very own dressing up wardrobe for our fancy dress days."