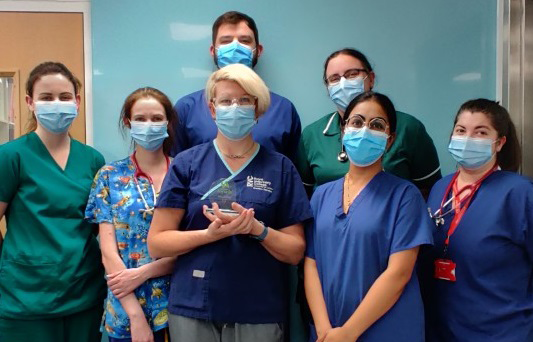 A surgeon at the Royal Veterinary College's Beaumont Sainsbury Animal Hospital in Camden has won UK Rabbit Vet of the Year at The Burgess Excel Vet Awards. The hospital also won Best Rabbit Practice of the Year.
Dr Nadene Stapleton was honoured for her outstanding contributions to rabbit health and welfare having overseen the attainment of the RWAF Gold Standard Veterinary Practice accreditation for rabbits at the BSAH. She also played a key role in the creation of safety guidelines for anaesthesia in rabbits for general practitioners.
Dr Stapleton works to improve the standard of care of rabbits by teaching veterinary students, nurses and owners. She often writes about rabbits for various journals and magazines and has two bunnies of her own – Elmer and Nosh.
She said: "I feel really passionately about advocating for the health and welfare of rabbits and will continue to put in every effort on their behalf. Perhaps now my own rabbits will listen to me!"
EXCEPTIONAL KNOWLEDGE
The UK Rabbit Vet of the Year finalists were selected based on their exceptional knowledge of rabbit care and husbandry, as well as evidence of educating the public about the best ways to care for rabbits, while Best Rabbit Practice of the Year nominees were based on the practice delivering exceptional rabbit and client care as well as championing best practice in rabbit welfare.
Following hundreds of applications and nominations for this year's awards, the winners were decided by a judging panel of industry experts, veterinary professionals and rabbit and guinea pig specialists.
The BSAH is the leading university teaching animal hospital in London, providing vet services in north London since 1933. The team includes vets and vet nurses with a special interest and advanced qualifications in the treatment of exotic pets and small mammals – including rabbits and has a strong history of also supporting general practice vets with complex cases through its exotics referral service.
Anne Richings, hospital director at the BSAH, said: "We have a world-class team of veterinary surgeons, nurses and customer care support at the RVC's Beaumont Sainsbury Animal Hospital, and this award recognises the care and expertise provided by our exotics service and role modelled to our veterinary students daily on clinical rotations.
"Receiving this award has delighted our team, and we're all incredibly grateful to our clients for their nomination and ongoing support. I could not be more proud of our teams achievement and recognition for the work that they care so deeply about."