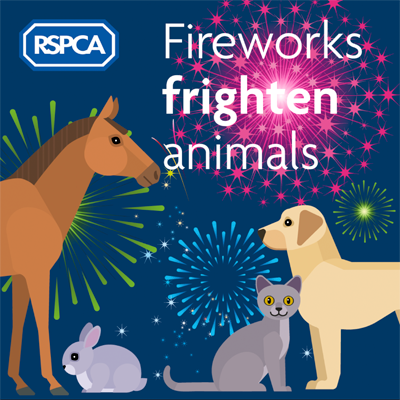 With reports of a number of firework events cancelled already across England and Wales, the RSPCA is concerned there may be an increase in unofficial at-home events in 2021.
This news may concern animal owners who have nervous pets or who own horses or livestock that live outside and may get spooked by unexpected lights and noises.
Over the last five years, the charity has received 1,621 calls about fireworks – and it fears this year could be worse if many more people go ahead with smaller displays in their gardens.
RSPCA campaigns manager Carrie Stones said: "We know that some councils, including Leeds and Dunstable, have announced cancellations already this year so we do have concerns that people may hold events in their own gardens.
"While we can prepare our animals for one night of disruption it's difficult when bonfire night now tends to last for days or weeks either side."
Around 62% of dogs, 55% of horses and 54% of cats in the UK show signs of anxiety when they hear fireworks, according to research. Loud bangs and bright flashes of light are also known to cause fear and distress to other animal, too, including smaller pets such as rabbits and guinea pigs, livestock and wildlife.
This year the RSPCA has already written to councils across the country and 'toolkits' will be provided  to help minimise the disruption of fireworks. The charity is also introducing an all-species online reporting scheme to map incidents to help it gain a better understanding of how it can help.
For more information about the RSPCA's #BangOutOfOrder campaign and to support the charity's calls for more controls over fireworks displays, as well as guidance on sending a letter to your council, visit theBangOutOfOrder webpage.