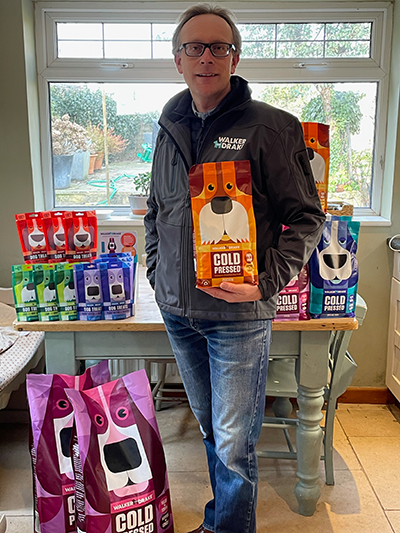 Cold pressed pet food manufacturer Walker & Drake, which was launched in June 2020, has seen sales soar so quickly that it has expanded its sales and marketing team by appointing a new business development manager.
Andrew Clark, who is from Harwell in Oxfordshire, will be focussing on sales and distribution in the Southern UK, Wales and the West. He will also be providing sales training for stores helping to promote the cold pressed message to employees and customers alike.
Andrew is an experienced sales manager having worked for leading FMCG and luxury brands including Wrigley's confectionary and Swatch. He then spent over seven years working in the pet industry promoting some of the leading veterinary formulated and premium pet food brands. He built up relationships with independent retailers and his experience gave him a passion for promoting great pet food.
Barnsley-based Walker & Drake was launched last year by business partners Richard Grant, David Taylor and Tim Matthews after spotting a gap in the market to provide a high quality dry pet food with minimum processing.
Commenting on his new appointment Andrew, who is also the owner of a three-year-old wire-haired dachshund, said: "Working for Walker & Drake is a fantastic opportunity to be part of a very dynamic team and a new business, with the responsibility to grow sales in the south. It will be a great challenge to help shape the business and grow this fantastic product range. Cold pressed pet food is not new but there is great potential for innovation and growth due to the obvious benefits from other types of kibble on the market – and it's made in England!"