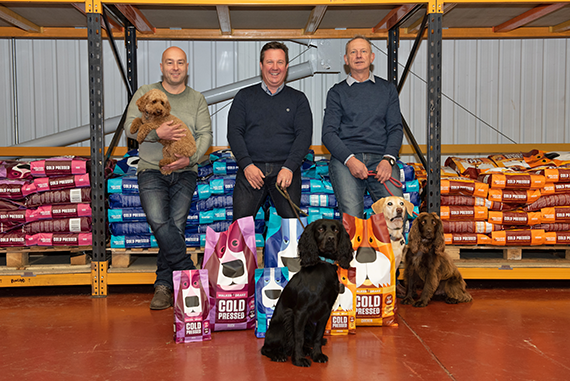 New cold-pressed dog food business Walker & Drake – launched mid-lockdown in June – is already planning to recuit three new field sales executives to join its rapidly-expanding team.
Business partners Richard Grant, David Taylor and Tim Matthews, all lifetime dog owners, say they saw an opportunity to provide a quality kibble with minimum processing.
The covid-19 lockdown saw Walker & Drake putting emphasis on ecommerce via its website, delivering directly to the customer's home, but the company is now expanding its portfolio of independent stockists via a field sales team.
Stockists range from pet shops and groomers to vets, garden centres and farm shops. Online sales have been received nationwide with hotspots in the south east and Scotland.
RESEARCH
"We love our dogs and we have invested vast amounts of time and research about what's good for them, but also convenient for us as their owners," said co-founder Richard Grant.
"As a nation of dog lovers, we're becoming increasingly more aware of the manufacturing process involved in their food. Cold-pressed dog food has minimal processing to lock in nutrients and make it tasty and healthy for the dog, and easy to serve up for the owner.
"It's also increasingly important to customers that they support a British company and some have told us that they've only just realised their existing dog food is made abroad. Lockdown has created a more local mindset and people have had more time to research the products they use and so they're actively looking for food that's made in the UK. This combined with the growth in dog ownership has meant a strong start to the business."
INVESTMENT
Based in Yorkshire, Richard and David have previously owned a display graphics company, which they sold, while Tim was sales director of one of the largest bus manufacturing companies in the UK. The team has made significant investment in the branding and values of the company, communicating the benefits of the cold-pressed food process at its core.
Sale director Tim Matthews is buoyant about the months ahead. He said: "We're currently developing another flavour of the cold-pressed food and we are working on a range innovative dog treats, too.
"We have also already had serious interest from overseas and are currently working with the Department of International Trade to develop this."