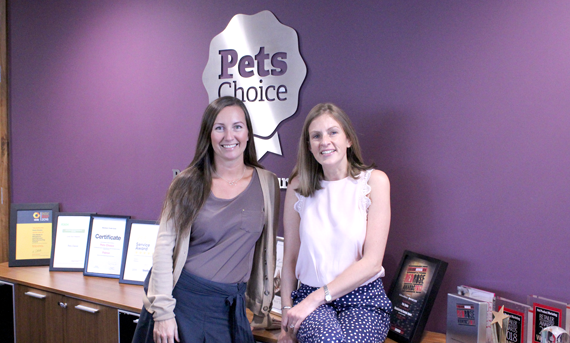 (L-R) Kelly Hall and Jenny Kennedy
Pet food manufacturer Pets Choice is setting its sights on growth with the addition of two new recruits to its sales team.
Jenny Kennedy, head of category & insights, and Kelly Hall, national account manager – Grocery Retail, join the business with more than 30 years' combined experience within FMCG, working with a host of national brands from petcare and soft drinks to cereal..
Jenny began her career 20 years ago on the graduate scheme with Sainsbury's before moving into sales, and has spent the last 15 years in category roles working with major brands including Mars and Kellogg's. She will play a vital role at Lancashire-based Pets Choice, incorporating the shopper rationale into business decisions, as well as working with retailers to drive total category growth.
With 17 years' experience within national account management and customer marketing for blue chip FMCG organisations, Kelly joins the team as a newcomer to petcare. Her responsibilities will include managing some of the company's biggest grocery retail customers, including Tesco, Morrisons, Waitrose and Co-op.
Jenny said: "Pets Choice is a major player in the pet food market, with a plethora of fantastic brands in its portfolio.
EXCITING
"It's a really exciting time to be joining the business as it looks towards growth plans for 2020 and beyond. I look forward to working with our retail partners, delivering the insights they need to really maximise profits from petcare and showing them just what the Pets Choice brands have to offer."
Tony Raeburn, Pets Choice CEO, added: "Our people are a real asset to our business and we're delighted to welcome Jenny and Kelly to the team.
"Their in-depth knowledge of FMCG markets is going to prove immensely valuable for us as we take the next steps towards meeting our ambitious growth targets. I have no doubt that they'll do a fantastic job for us as we move into a new era."
The Pets Choice portfolio comprises 13 brands offering a variety of products for pets and wild animals, including Webbox, whose product range extends to dog and cat food, treats and accessories.