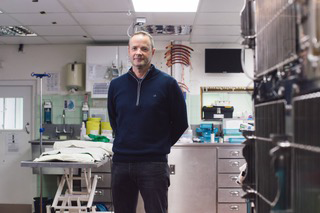 Employee-owned Pennard Vets has appointed a managing director with more than 17 years industry experience.
Jeff Gascoyne joins the company from Scarsdale Vets, where hespent the past five years as a partner, executive director and latterly, executive chairman.
He previously worked for 12 years at Vets4Pets as its operations director and then business acquisitions director and holds an Honorary Associate Professorship in Veterinary Business Management from The University of Nottingham School of Veterinary Medicine and Science.
Jeff said: "The fact that all Pennard Vets' 99-strong team across six sites in Kent are practice owners and shareholders in the business, following the move to becoming an Employee Ownership Trust (EOT) this year, was really appealing to me. Like any new member of the team, I now also own a stake in the business.
"My role will be to help and support the entire team to achieve greatness through collaborative and inclusive leadership, as we continue to grow and exceed our client's expectations. Compassion, client focus and continually improving everything we do is what makes Pennard Vets extraordinary.
"Pennard Vets is fiercely independent and has stayed true to its 125-year-old core values and that is very inspiring."