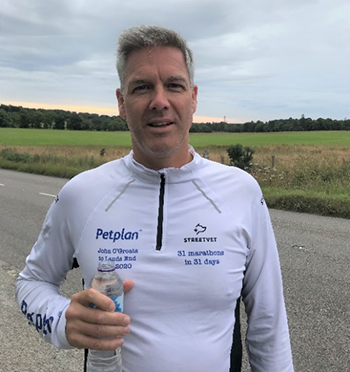 Former Petplan Vet of the Year Brian Faulkner is running no fewer than 31 marathons in 31 days throughout August – in aid of the charity StreetVet, which offers free veterinary care for animals of the homeless.
He will run the length of the country, from John O'Groats to Land's End, ending up there on Monday, August 31 – his 50th birthday.
Brian, who was born in Cookstown, Northern Ireland, but now lives in Hacheston, Suffolk, had never run more than 10 kilometres until four years ago. However, after being challenged to run the London Marathon during a 4am drinks conversation at a veterinary conference, he took the race in his stride! He went on, the next year, to run 10 marathons in 10 days.
Now, StreetVet's work has inspired him to push himself further and embark on this even more gruelling journey. Well-wishers can check his progress and donate at www.jogle2020.co.uk