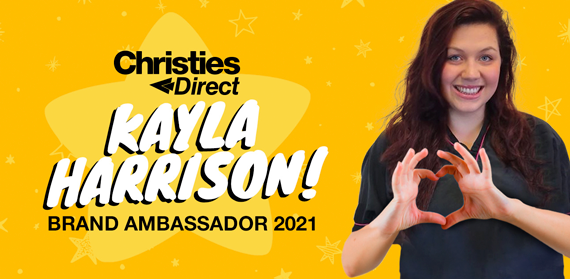 Christies Direct has selected Kayla Harrison as its brand ambassador for 2021.
Christies launched its search in January with the tagline Can You Cut it? in the hope of finding someone who was 'not only a highly skilled groomer, with a wealth of breed and product knowledge, but also someone with passion for the industry, a friendly personality and a positive can-do attitude'.
Event manager Amy Donaghey said: "We were overwhelmed with the initial response and the number of fantastic applications is a testament to the grooming industry. Our judges had the task of selecting our finalists and it was not an easy one." "
From these applications the judges created a shortlist of eight finalists to move through to stage 2. During this stage, the finalists were asked to showcase their skills and product knowledge.
Amy said: "The calibre of content from finalists was incredible and our judges, Michael Shiels, Colin Christie, and Lindy Harper, read and re-read, watched and re-watched, but one name stood out."
DISTINCTIONS
The company was delighted to choose Kayla Harrison as their 2021 brand ambassador during their first live-streamed event – Unleashed Live.
After achieving a whole host of distinctions while studying animal management, behaviour and welfare at college, Kayla went on to study dog grooming which is where she found her calling.  "
She has now been grooming for more than 10 years and holds an OCN level 3 in grooming, has studied pet first aid, and has almost finished her ICMG qualification. In the future she hopes to complete her Level 4 teaching qualification and use her passion for grooming to inspire up-and-coming groomers in her own Grooming School.
Kayla specialises in poodles and schnauzers but is an expert at handling challenging dogs in the salon. She loves creative grooming and her two standard poodles regularly model her talents. Kayla and her sister own two busy salons in Berkshire, '2 Left Paws', and she recently featured on BBC One's 'Pooch Perfect'.
Along with her reputation as a groomer, Kayla is also known for preparing and handling long-haired briards at Crufts.  She has prepped and handled dogs to podium positions in the Good Citizen Dog class, Veteran Bitch and Post Graduate Bitch classes.
DEMONSTRATIONS
Christies marketing director Lindy Harper said: "Kayla naturally and effortlessly talked to camera during her grooming demonstrations, sharing not only product recommendations, but how these products translated to time and money savings for groomers in the salon, and we know how important that is for our customers…
"Kayla will excel as our brand ambassador because she is approachable and friendly, and groomers of all levels will be able to learn so much from her as not only a passionate groomer but also a successful business owner."
Christies Direct is Europe's largest pet grooming supplier, shipping to professional groomers in more than 90 countries.
With more than 29 years experience in the animal grooming industry, Christies Direct is continuously developing new products, with brands such as Groom Professional and Dezynadog.