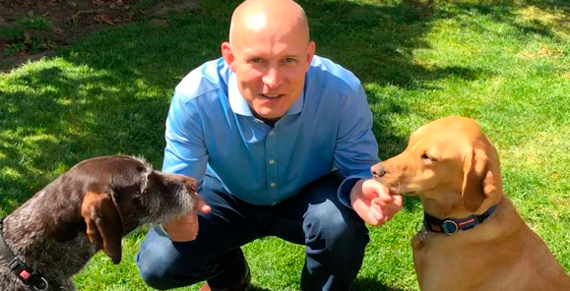 Inspired Pet Nutrition – home of Harringtons, the fastest-growing major pet food brand in the UK, and Wagg, the largest dry dog food brand by volume – has promoted James Lawson to managing director as part of an ambitious strategy to double sales to more than £200m by 2024.
Since joining the North Yorkshire company in July 2018, James has been a group director and also MD of IPN's subsidiary, The Real Pet Food Company, where sales of wet food and treats have doubled..
Before joining IPN, James was managing director at GA Pet Food Partners for seven years during which time he championed the use of high-quality, fresh ingredient foods and led the business to grow five-fold..
Richard Page, CEO of IPN, will continue to focus on longer-term culture and strategy.
Richard, who has been running the business since 2006, said: "James will lead the board of directors on a day to day basis and ensure the further development of IPN across all pet categories, markets and geographies. He will also continue to head up our nutritional teams and drive innovation and product quality, where we believe that IPN has a tremendous amount to offer.
"Making great pet food affordable to everyone, combining our superior pet nutrition and quality with our owner manufacturer model will be a key point of differentiation in a world emerging from the current COVID crisis."
James added: "I am very excited about the future for this business. I believe we will continue to grow rapidly by focusing on what we do best, innovating across all aspects and offering nutritionally superior products for any given price.
PRODUCT DEVELOPMENT

"From innovation in product development with our FreshCook technology, for making 'freshly-prepared, meat first' wet and dry foods more appealing, to reducing our carbon footprint with efficient manufacturing and patents in compostable bags, to world first SIOC big bags for lightweight and direct to consumer delivery solutions, particularly relevant right now, weehave so much to offer, all with the aim of supporting healthy, happy, pets and owners."
IPN has also confirmed that David Proctor – who joined the business in October 2018 as group operations director – will now also formally be responsible for the manufacturing site at Kinmel Park, in North Wales, as well as the Dalton factory, in Yorkshire. IPN has invested some £70m at the sites during the past nine years and remains one of the best-invested companies in the sector.
As well as its Wagg and Harringtons brands, IPN also manufactures own label products for supermarkets and specialist pet retailers. The business has some 250 employees and group sales for the financial year ending June 30, 2019 reached £96.3m, with rolling turnover recently breaking through the £100m mark.