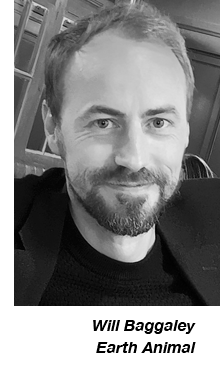 American company Earth Animal is ramping up its UK operations with the appointment of Will Baggaley as its first international sales and marketing director.
Will joins Earth Animal having initially launched the brand into the UK as head of marketing for Pedigree Wholesale. During his time at Pedigree he worked on market-leading brands Chuckit!, Walter Harrison's and Hurtta, plus the relaunch of the specialist pet retail chain. Just For Pets.
"We've made a cracking start in the UK with our partners at Pedigree, securing distribution for our category-busting 'No-Hide' Chews in 500 wonderful pet stores around the country in short order and we've just had a brilliant debut at Crufts, but this is just the start of a really exciting journey for us in the UK,' said Sam Noble, head of international at Earth Animal.
"We have exciting plans to expand the range this year and will be investing heavily with Pedigree and our retailers to make the most of it. In addition, we really want to help consumers to get to know and share in the passion and purpose that makes us so much more than a provider of great products. We want them to become a part of the Earth Animal family."
Earth Animal has also announced the appointment of Liz Green as full-time brand manager at Pedigree Wholesale. She has been working as a brand manager in Australia, and prior to that in global product development in London.