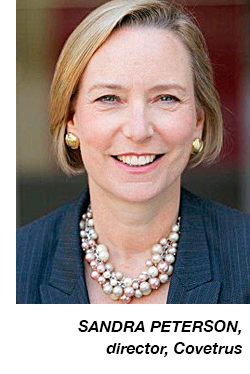 Sandra E. Peterson has been appointed to the board of directors of international animal health technology business Covetrus.
"Sandi's wealth of experience in large, global businesses that span the intersection of healthcare, consumer and technology makes her the perfect addition to the Covetrus board," said chairman Philip Laskawy. "We welcome her perspective and experience in driving operational improvement during periods of transformation as Covetrus continues to execute against its strategic growth objectives and create shareholder value."
Sandra has had a long and successful career of driving growth, operational improvement and innovation across global healthcare and consumer businesses.
This includes executive roles at Johnson & Johnson, where she was group worldwide chairman, led the consumer and medical devices businesses and was responsible for the corporation's global supply chain, technology strategy and infrastructure; and at Bayer, where she held numerous positions including CEO of Bayer CropScience AG, CEO of Bayer Medical Care and president of Bayer HealthCare AG's Diabetes Care Division.
Currently, she is an operating partner at CD&R, a leading private investment firm and is a member of the Microsoft board of directors. She has appeared in Fortune magazine's list of most powerful women numerous times and was featured on the magazine's inaugural list of leaders changing healthcare.
Covetrus is headquartered in Portland, Maine, in the US, with more than 5,500 employees serving more than 100,000 customers around the globe.