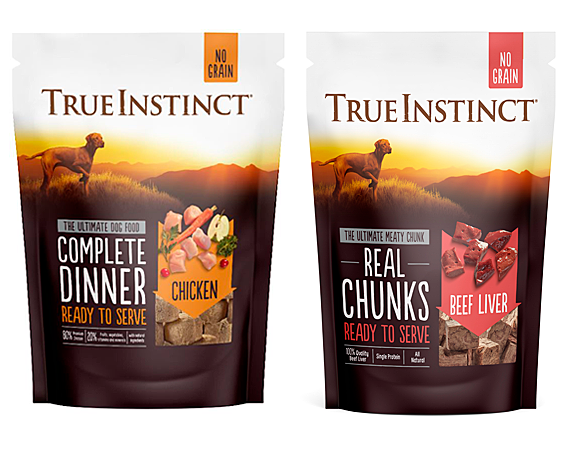 Natural pet food brand True Instinct has brought out a new Freeze-Dried range for dogs.
Made at True Instinct's Norfolk factory, Meat Bites are made using 100% freeze-dried beef, chicken, lamb and turkey.
The range also includes Complete Dinners, combining 80% premium quality beef, chicken, lamb and turkey, and turkey with salmon, with 20% fruits, vegetables, vitamins and minerals to 'provide all the benefits of feeding the most natural raw diet with the convenience of traditional dry food'.
Finally, the Real Chunks varieties come in 100% chicken, salmon, beef, beef liver and beef tripe.
The innovative freeze-dried products offer 'high-quality, delicious and filling food' and contain no grain.
DISCOUNTS TO RETAILERS
The Freeze-Dried range will start at 99p for the Meat Bites, £2.99 for the Complete Dinners and £5.99 for the Real Meat Chunks. What's more, to celebrate the upcoming launch of the new products, True Instinct is offering discounts across the range to retailers.
Craig Taylor, managing director of True Instinct, said: "Having completed indepth research into the new products, and utilising our state-of-the-art technology here in Norfolk we're delighted to have them available on the market. The new Freeze-Dried range provides pet owners with food that's the pinnacle of natural dry feeding.
"Freeze drying locks in all the goodness of the quality ingredients by simply removing water content. It also delivers a deliciously intense flavour,  which we know dogs love from the reactions we've seen already."
True Instinct specialises in a complete and balanced range of natural pet food and treats. Its varied products offer nutritional, complete and balanced frozen raw, freeze dried, high-meat dry and high-meat wet fillets for both cats and dogs.