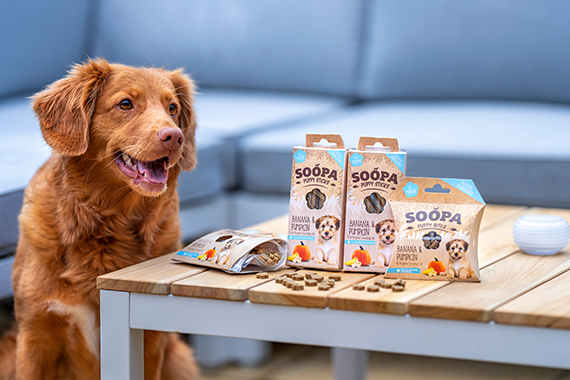 Following the launch of Soopa's plant-based Puppy Dental Sticks in May, the brand is now adding Puppy Training Bites.
Soopa's puppy bites are hypoallergenic, grain free, made with 100% natural banana and pumpkin, and are suitable for pups over three months old. All Soopa products, including the new puppy range, are low fat, made with human grade ingredients and come in 100% recyclable packaging.
With a rise in new puppy owners across the UK due to covid-19 and increased demand for plant-based treats, the company accelerated its expansion plans to include its new puppy range.
"We cannot compete with big brands and do not have big marketing budgets," said Soopa owner Barbara Hanly. "That is why we are even more excited to see our growth is being generated by demand from consumers who want 100% plant-based and natural treats with high quality human grade ingredients."
GROWING
Today Soopa, which has been a plant-based pioneer since 2013, is growing its sales continuously with customers across the UK, Europe and more recently Asia.
"I knew dogs naturally loved fruit and vegetables yet when I started there was not any plant-based dog treat on the market," said Barbara. "I knew I was on the right path when, soon after I launched in the UK, I discovered Kensington Palace had ordered Soopa treats from one of our London stockists."
Soopa is available from the main UK distributors and currently is rewarding all new customers that hold a trade account directly with Soopa with a welcome discount.
"We pride ourselves on providing an excellent personalised customer service and we are looking forward to continued growth by offering the very best plant-based treats for dogs in UK and around the world," Barbara concluded.