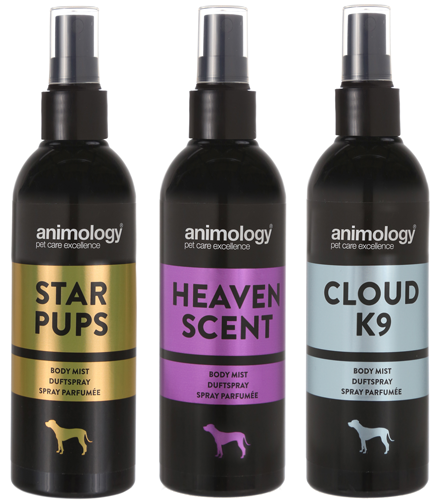 Multi award-winning brand Animology is entering the dog fragrance spray market with the introduction of three new 'alcohol free' body mists for dogs.
Launching this month, the three new 150ml products will be added to the Animology range. Designed to a leave a lasting scent that lingers on the coat for longer, there is a choice of three fragrances: Animology Cloud K9, Heaven Scent and Star Pups.
The new additions, supplied in a 150ml atomiser spray, feature metallic foil label designs and the products carry a suggested retail price of £5.50, in keeping with the rest of the Animology range.
Group55's sales director for pet care, Martin Breen, said: "We are delighted to launch these exciting new products, which further enhance our already hugely successful Animology product range.
"Most dog fragrance sprays contain alcohol, some in significant volumes that can be harmful to the hair and skin of a dog. We have responded to the demand from our customer base for a fragrance spray by developing a completely new set of formulations that deliver great fragrance levels and linger but most particularly with the health of the dog as our primary focus.
"These Animology body mists look and smell amazing and, as a brand that is synonymous with keeping dogs looking and smelling at their best, they are a perfect fit for our product range."