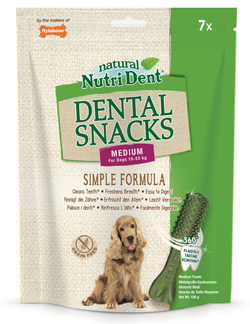 Nylabone's Nutri Dent brand has launched into the UK.
Nutri Dent is an edible dental snack designed to reduce plaque and tartar to help maintain healthy teeth and gums and reduce canine dental disease..
Created to work like a brush but taste like a treat, Nutri Dent chews are made from a formula of 10 natural GMO-free ingredients, with no artificial colours, flavours or preservatives, no added salt or sugar, and a low fat content. Additionally, their 'grain free' formula makes them easy to digest, Nylabone says.
The new dental snacks are available in four sizes – extra small, small, medium and large -and come in a resealable pack.
Nutri Dent forms part of the 'Eat Clean Chew' message from Nylabone and is designed to be used in conjunction with Nylabone's chew toys as part of a dog's dental hygiene regime.