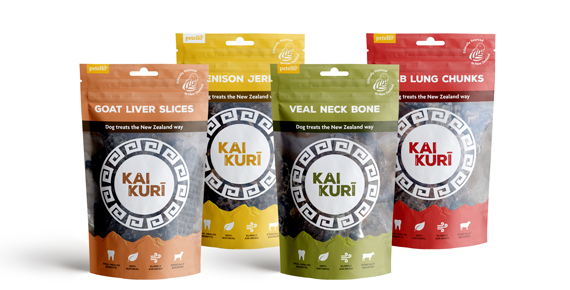 Pedigree Wholesale's new range from New Zealand – Kai Kuri from Petello – will be available exclusively to the specialist pet trade.
The natural dog treats have been developed from sustainable protein sources farmed under some of the highest animal welfare standards. The portfolio includes treats made from New Zealand lamb, grass-fed goat, free-range venison and sustainably sourced veal.
Kai Kuri – meaning dog food – packs a taste of New Zealand and is 100% natural, low in fat and high in protein. The proteins are slowly air-dried for maximum taste and to maintain vital nutrients.
Treats will come in convenient bags with products retailing from £3.99 to £7.99, including venison tongue, tendons, smoked shank skin and jerky mix; lamb lung chunks and slice; veal ribs and neck bone slice and goat liver slice and lung bites.
Available now, the launch is supported with a variety of POS solutions and introductory offers.
Steve Brown, managing director at Pedigree Wholesale, said: "We are incredibly excited to bring these sustainably sourced products into the UK. New Zealand has some of the highest animal welfare standards in the world and we know this is what the increasingly conscious consumer is looking for when purchasing any product."
Gerard O'Mahony, commercial director, said: "We know that consumers continue to seek out natural solutions to their pet needs and reflecting that natural treats is a booming category for the specialist pet market.  Given the health benefits for the nation's pets, we expect this growth to continue.
"We are disappointed to not be able to launch the range at PATS Telford, a great show where we find in our interactions, customers come looking for something new that will improve their in-store offering and that appeal to their customers and customers pets alike.
"Nevertheless, we've a full launch plan in place and it kicks off in September. Get in touch, we've some great launch offers and POS packs available."