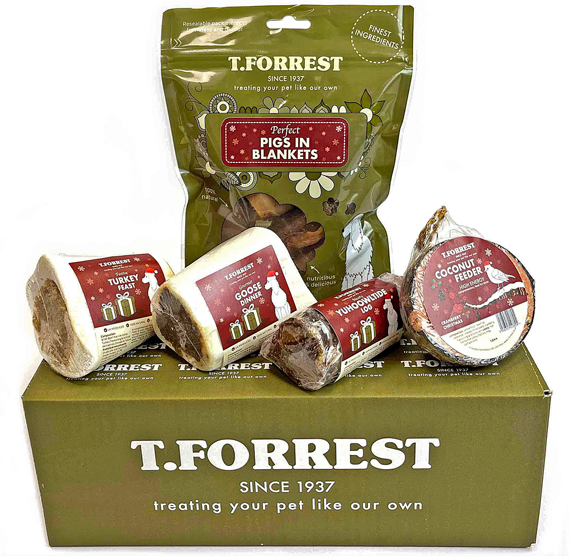 T.Forrest has expanded its natural pet treat range with the launch of a new Christmas range.
The new additions to the range are Christmas versions of the company's already popular products. Two recipes have been added to the filled bone range – Turkey and Goose, a meat filled trachea renamed 'yuhowwltide' log, and a special edition Christmas cranberry coconut bird feeder.
Head of business development Daniel Wallbank said: "This year has seen a huge increase in pet ownership and a recent report stated that Brits are set to spend over £900m on the pets this Christmas, so we wanted to offer customers a natural choice for their pets during the festivities. Pets are part of our family, so why shouldn't they have their own healthy versions of our Christmas feast?"
The range sees the introduction of a new limited-edition Pigs in Blanket made with a meat sausage wrapped in crispy pork skin.
All products will be offered in retail packs to be sold individually or in a festive bundle that contains one of each of the treats.
Daniel added: "We took the decision to offer our Christmas range in retail packaging, so customers have the choice to buy for their own pet or to buy a gift for a fellow pet parent."
All T.Forrest products are 100% natural with no bulk fillers, added preservatives or colourants.