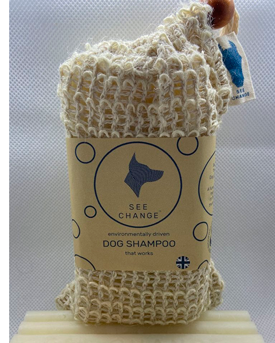 Pet shampoo company See Change Now has launched a zero plastic, 100% biodegradable dog shampoo bar.
The company launched a horse shampoo bar last year and it has already attracted the attention of top eventers. Now, the company says, its new Original Dog Shampoo Bar 'meets the needs of eco-savvy dog owners and makes a great addition to the thriving natural category, particularly post-covid, when the effects of reduced travel and industry on the environment have been a real focus of attention'.
The premium product is ideal for home grooming or for use by professional groomers.
With 82% of Brits aiming to reduce their plastic waste and around half of us prepared to pay more for eco-friendly packaging, See Change Now founder Catherine Milne says there is a clear demand for eco products.
SUSTAINABLE CHOICE
"There are plenty of drivers for people wanting to make more sustainable choices, but knowing where to start can be overwhelming," she said. "Our plastic-free shampoo bars make one of those decisions really simple for pet owners, and it's an easy change to make."
The Original Dog Shampoo bars are made in the UK from all-natural ingredients that match the highest standards for human cosmetics, so they are suitable for pooches with sensitive skin.
"The product is enriched with argan oil and is super gentle, while still being effective – even on a pet who loves a good roll around in the mud!" Catherine added. "Shampoo bars are becoming an increasingly popular alternative to liquid shampoo because of the reduction in packaging."
The Original Dog Shampoo Bar contains 100% pure essential oils – cedar wood, ginger, vetiver and sweet marjoram – to combat pet odours. The 230g bar lasts three times longer than traditional shampoo, Catherine says, and comes in an sisal bag, with an RRP of £15.99.