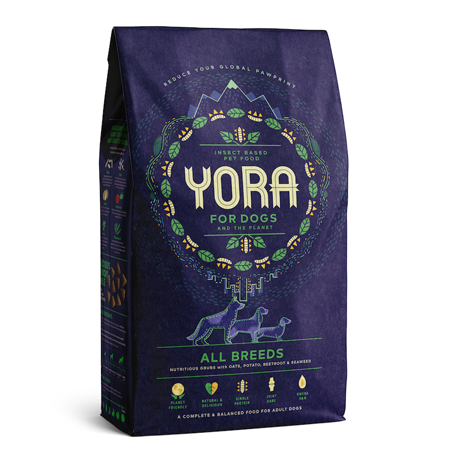 A NEW pet food using insects as an ingredient has launched, which its makers say reduces the environmental impact of pet food.
Pets are estimated to consume around 20% of the world's meat and fish, a statistic which is set to grow further with the trend for feeding human-grade meat to dogs and cats.
Yora is natural, free from artificial preservatives and made with 'highly nutritious insects which are better for pets and the planet'. The kibble features little grubs combined with British grown oats, potato and natural botanicals and looks just like regular food.
Insects use a fraction of the resources to farm and Yora's grubs are reared in an £18m high-tech facility in Holland. The grubs are extremely efficient and consume recycled vegetable matter that would otherwise go uneaten.
When compared to beef farming, Yora's grubs need just 2% of the land and 4% of the water to produce each kilogram of protein, which means they generate 96% less greenhouse emissions. The insects grow naturally at a rapid pace, reaching full size in just 14 days, so there's no need for growth hormones or antibiotics.
Tom Neish, founder of Yora, said: "Animals and humans have been eating insects since the dawn of time and we believe Yora is the future of pet food. We have trialled 29 recipes to find the perfect combination of great tasting ingredients and are very proud of the end result.
"Yora enables dog owners to take the lead in giving their dog a nutritious, tasty food whilst having a positive impact on the environment."
Nigel Baker, chief executive of the Pet Industry Federation, added: "With increasing pressure on all of us to reduce our meat intake, it's clear that the pet industry will need to diversify, and we welcome this innovative new dog food product."
Yora costs £14.99 per 1.5kg bag (£1.80 per day) or £49.99 per 6kg bag (£1.49 per day).