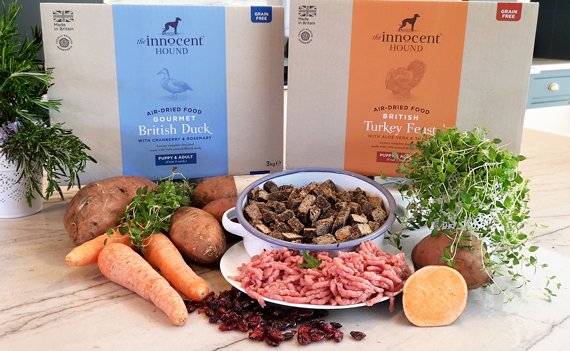 Luxury pet treat manufacturer The Innocent Pet Care Company has added two new recipes to its air-dried complete dog food range.
Voted Best New Dog Food Product at PATS last year for the British Lamb Casserole, the company says its air-dried food range has gone from strength to strength with retailers from the UK, Europe and Asia stocking the new category of food.
The complete dog food range includes two new delicious recipes: Gourmet British Duck and British Turkey Feast. Both flavours contain 70% British meat with added vegetables and prebiotics for a healthy digestion.
Managing director Chloe Heaton said: "Our air-dried complete dog food range has been very successful since its launch last summer. Our customers love the quality and freshness of the food we make, so we gathered feedback for future flavours they would like to see. We have been able to add two new recipes that their pets can continue to enjoy."
The team at Innocent has also added new improved recipes to the two original air-dried food recipes; British Lamb Casserole and Wild Salmon Fishcakes, which are now both free from potato and tomato.
Chloe added: "One of our most asked questions with the complete food range was whether puppies could eat it. We looked at the formulations across the full dog food range and have worked with our nutrition experts to create recipes that are suitable for puppies."
The full air-dried complete dog food range is now suitable for both adult dogs and puppies from eight weeks.
The food packaging contains resealable pouches, keeping meals fresh for up to eight weeks once opened. It is also 100% recyclable and is available in 3kg packs with an RRP of £40.