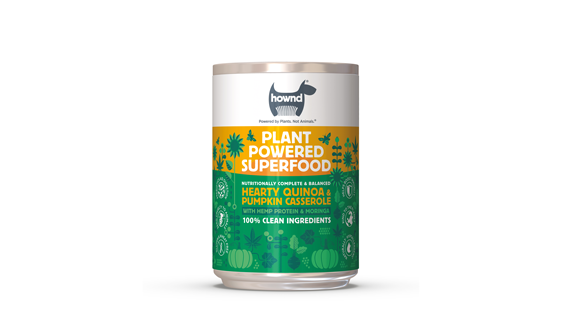 Award-winning plant-based pet care company Hownd is launching its first complete food for adult dogs.
Called Hownd Plant Powered Superfood, the nutritionally complete food is made using 100% plant-based ingredients.
The launch comes as the vegan pet food industry is gaining momentum and as consumers are making more conscious choices on the quality, provenance, health and environmental impact of their dog's food and products, says Hownd.
The range launches with a Hearty Quinoa & Pumpkin Casserole recipe, full of quality proteins and 100% clean, prebiotic superfood ingredients such as organic hemp protein and antioxidant moringa. Formulated by veterinary and animal nutritionists, it is also naturally hypoallergenic and low in fat.
Hearty Quinoa & Pumpkin Casserole RRP £2.95 for 375g will be available exclusively in the UK at Hownd's new subscriber-based website DogsLoveHownd.com, while the brand builds interest and demand via its subscription model.
It will also be available to Hownd's overseas distributor network and the brand has further plans to launch additional recipes throughout the year.
Hownd Plant Powered Superfood can be fed to dogs over a few meals a week to aid their overall health and mirror the practices of the 34% of British meat eaters who are reducing their meat consumption to follow a flexitarian diet.
Alternatively, it can be offered to pets on a fully-vegan basis to suit the ethics of dog owners within the UK's 600,000 vegan community.
Hownd says that, contrary to popular belief that dogs are carnivores, they are actually obligate omnivores and can therefore not only survive but thrive on a plant-based diet. A dog's small intestine makes up 25% of their total gastrointestinal volume, which is consistent to that of omnivores, and they also have molars with relatively flat surfaces, enabling them to grind fibrous plant material.
Hownd co-founder Jo Amit said: "For us, a plant-based diets for dogs is not just another trend, it is core to our values, which is why we are so passionate about encouraging dog owners to give it a try.
"As much as 30% of reared livestock is destined for pet food and at least 20 times more land is required to feed a meat-eating dog than one on a plant-based diet, so even a simple switch to a flexitarian doggy diet will make a positive impact on the planet."