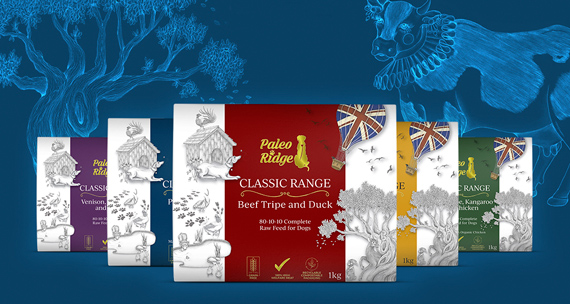 Paleo Ridge is re-launching its award-winning core range of 80-10-10 products in an environmentally friendly sleeve with an eye-catching new design.
The product has remained the same 80-10-10 recipe, packaged in the same biodegradable and compostable boxes. However, the addition of a cardboard sleeve that is also environmentally friendly, using eco-friendly inks, completes the new look. Colour coding has been used to help the consumer to easily identify which proteins they are buying.
The new sleeve features a unique design with a classic colour palate and detailed hand drawn illustrations. Local designer and long-time Paleo Ridge customer, Candy Smith, has collaborated on the new designs.
Tyler Daly, MD of Paleo Ridge, said: "It has always been our intention to re-launch this range with an exterior that speaks of the quality within. We are all very proud of how far we have come and we are delighted to see some of our very first products re-launched into this new design!
"We are a bunch of very driven dog fanatics on a mission to provide the best quality raw food on the market, to keep our dogs happy, healthy and well nourished."
Having recently gained the ISO 9001 quality control accreditation, Paleo Ridge adds this to the Ethical Award from The Ethical Company Organisation for the third consecutive year and the OF&G Organic processors certification.