Pet food firm Fish4Pets is an official sponsor of National Bring Your Dog To Work Day today (June 24) and is marking the event with a substantial charitable donation.
The event provides a fundraising platform for three official charities – All Dogs Matter, Animals Asia and Surge Sanctuary.
In addition to being an event sponsor and helping to raise awareness of the charities involved, Fish4Pets has made a donation of dog food worth more than £1,000 to the London-based charity All Dogs Matter and is supporting its Great Hampstead Bark Off fundraising event on Sunday, July 17. The charity works in partnership with individuals and organisations to rescue, rehabilitate and rehome dogs in need.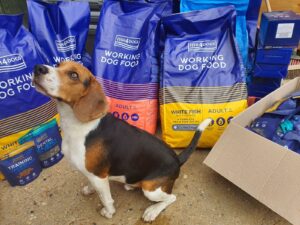 Research has identified that having dogs in the workplace can have positive benefits for employee productivity and wellbeing including by reducing stress levels and increasing job satisfaction, team co-operation and morale. Fish4Pets operates a dog-friendly environment all-year-round.
Fish4Pets HR manager Lorna Baker explained that the policy works very well for the company. She said: "We have an official policy that is given to new employees as part of the employee handbook. It details our office rules for the dogs such as only one dog per employee, and guidance on how to ensure all four-legged companions are happily accommodated and their welfare considered during the day."
Fish4Pets is based in Rushock, Worcestershire. Established 15 years ago, the company sells premium dog and cat food using fish as its only protein source to over 35 countries worldwide.
Bring Your Dog To Work Day was first founded by pet food company Hownd in 2014.