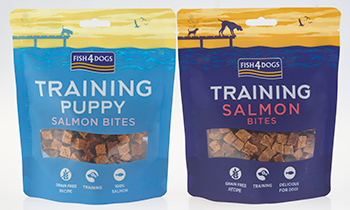 Fish4Dogs has expanded its training treats range with Salmon Bites – its fourth market-driven new product in 2021.
As with all products launched this year, Fish4Dogs Salmon Bites have been introduced as a direct result of recent customer feedback and the rapid change in dog ownership driven by the pandemic.
Fish4Dogs Salmon Bites, which are made from 100% salmon, are available in both Puppy and Adult ranges – described by the makers as 'ideal for those new family members, or for teaching old dogs new tricks'!
Jo Mulgrew, marketing director at Fish4Pets, said: "The Fish4Dogs Training range of treats are specifically designed to be stimulating and rewarding when working with your dog. We've taken size, smell and calories into consideration when designing these treats, so treats in this range can be used many times during a training session.
"I'm really excited about introducing Salmon Bites to this range, offering puppies and dogs another aromatic, delicious and stimulating treat, whilst providing healthy, peace-of-mind choices for dog owners."